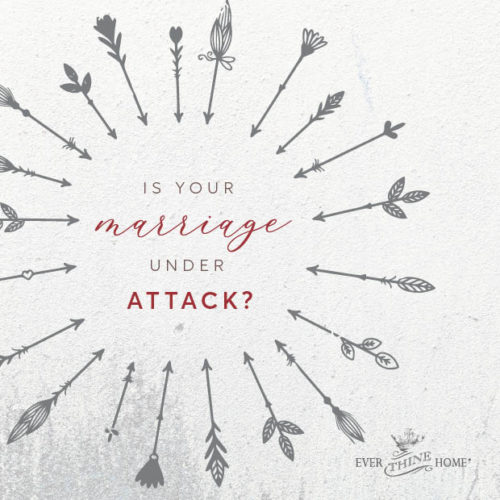 I'm hopeful you will be encouraged by the wisdom in today's guest post by our friend, Tim Muehlhoff. Dennis and I have known Tim and Noreen for decades. Tim is witty and one of our best communicators on the Weekend to Remember speaker team. He is a professor at Biola University and specializes in teaching communication, so he knows a thing or two about marriage! In fact, I quote Tim in my book, Letters to My Daughters, the Art of Being a Wife. I learned from him that there are in fact irreconcilable differences in every marriage, but they don't have to be changed!
In Tim's new book he writes about the very real but unseen threat to every marriage called spiritual battle. No marriage is exempt for the enemy of our souls that Jesus spoke of often is against every marriage. Period. Satan's desire is for your marriage to be destroyed. So, I hope you will read this post with understanding and be encouraged that so much of what all marriages face is fueled by invisible forces. It's truly an honor to introduce Tim to all of you. And thanks to Intervarsity Press for giving us permission to share this glimpse into Tim's important new book. May you be wise as Jesus wants us to be.
By Tim Muehlhoff
"I love my husband, but I just can't shake these thoughts."
Sandy sat before me holding her husband's hand avoiding eye contact. She explained that after fifteen years of marriage and raising two kids she decided to get serious about her faith. They started going to church together and even doing occasional family devotions.  
"Then out of the blue, I start having these crazy thoughts that perhaps we shouldn't have gotten married."
She squeezed her husband's hand knowing the pain such words caused. Over time, she was consumed by the realization that she didn't consult God when her husband proposed.
"What if God had someone else for me? What if he had an entirely different plan for my life? I can't stop asking all the what ifs . . . it's like a never-ending loop in my brain."
We went through the normal checklist: meeting with their pastor, marital counseling, praying for God's peace, memorizing Scripture, and so on. She affirmed that they'd done all of that, and yet the thoughts kept coming.
"Am I crazy?" she said looking up.
"No," I responded. "I think you are under spiritual attack."
To my recollection, that was the first time I had ever suggested such a possibility. After thirty years of counseling couples and speaking at FamilyLife Marriage Conferences, it would not be my last. All couples experience the normal ups and downs of marriage: we argue and make up; we appreciate the strengths of our spouse even when those very strengths sometimes greatly annoy us; we struggle to forgive, but eventually do. Yet, after listening to couples—and my own experience—there are times when something else is going on. Times in a marriage when negative thoughts or anger simply will not go away.
If that's your experience, what is the next step?
New Testament writers advocate that the first step isn't to learn a set of spiritual warfare techniques but, rather, to gather information. The apostle Paul writes to young believers in Corinth that in order to keep Satan from outwitting us we must become aware "of his schemes" (2 Cor 2:11). Early church leaders understood that following Jesus necessarily meant paying attention to the demonic. Christian author Kenneth Boa notes that "about 25 percent of Jesus' ministry as recorded in the Gospels involved deliverance from demonic affliction." He then draws a chilling conclusion, "The forces of evil did not disappear when Jesus left the earth."  
The reason we take spiritual warfare seriously is not because we've had personal experiences with demons, known friends who have hair-raising stories, or seen YouTube videos of seemingly credible exorcisms. "The primary witness to the reality and existence of Satan is not experience or sensational stories," notes theologian Paul Enns, "but the testimony of Scripture."  Embracing the Bible as a God-inspired book that helps us view the world as it really is necessarily entails a robust belief in the spiritual realm.
The first step as a couple is to diagnose how seriously you take the topic of spiritual battle.  Consider these questions:
What images do you associate with Satan or the devil?
Are these images spurred on by the Scriptures or pop culture?
When you think through the last year, how many sermons did you hear about spiritual     battle?
How often do you or your friends discuss Satan or the possibility of spiritual opposition?
Do we take the topic of spiritual battle as seriously as Jesus does?
Couples often find the answers to these questions deeply disturbing.  Most never discuss the topic of spiritual battle with each other or other couples.  While we purposely lock the doors our house at night against physical intruders, most of us take no steps to secure our marriage from spiritual assailants.  If that describes you, it may be time to gather some information about spiritual forces that may be targeting your marriage. Where to start?
First, do a quick survey of what the Scriptures have to say about the topic.  As a couple, read the Gospel of Mark to see how Jesus dealt with spiritual oppression and then read Paul's letter to believers at Ephesus to see how he links Christian marriage (chapt. 5) to spiritual armor (chapt. 6).  
Second, gather some like-minded couples together to begin to pray for each other.  In describing our spiritual protection, Paul powerfully states that prayer is our primary defense (Eph. 6:18)
As you begin your examination of Satan, it is important to remember one key fact.  While Satan is God's adversary, he is not God's equal.  "There are dozens of references to God in the Scriptures for every one to the figure of Satan," notes Christian author, John Ortberg.  "This reflects a sometimes forgotten theological truth that the devil is by no means God's counterpart. He is a creature, not the Creator."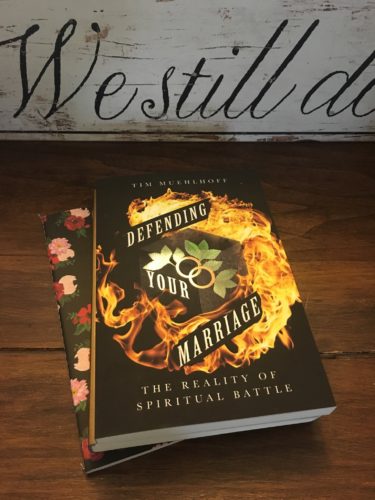 Tim and his wife, Noreen, have spoken at FamilyLife Marriage Conferences for the past 23 years.  In addition to being a professor of communication at Biola University (La Mirada, CA) he is an author whose newest book is, Defending Your Marriage: The Reality of Spiritual Battle (IVP, 2018).  To read a sample chapter visit: timmuehlhoff.com.