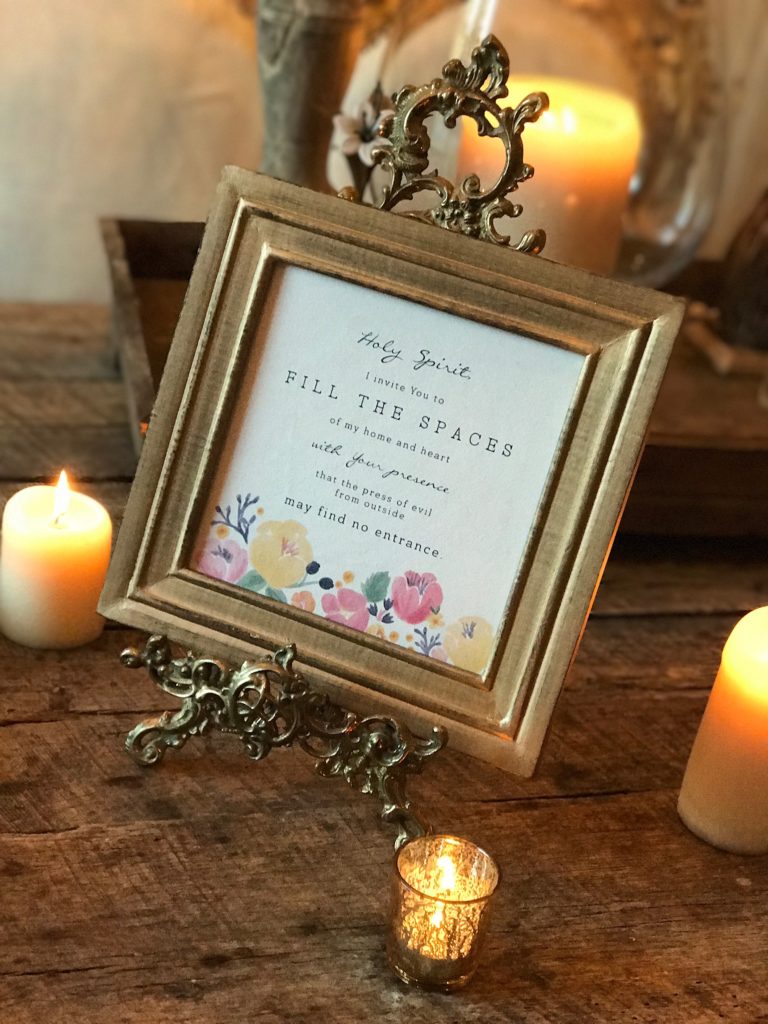 Though it is not yet Christmas, there is a name of Jesus often associated with this annual holiday that is meaningful to me every single day of my regular life. It is Emmanuel: God with us.  
This concept of with us is woven like a glittering gold thread throughout the pages of the Bible, its yellow sparkle calling us to notice God's intentions to dwell with us. Though the ability for man to live perfectly with God was lost in the Garden of Eden, God has made His presence known throughout history: meeting with Abraham, Isaac and Jacob; leading His people with fire and a column of smoke; literally residing in the tent tabernacle and in the temple in Jerusalem.
Eventually He came to dwell with us, as one of us, in the person of Jesus. "And the word became flesh and dwelt among us" (John 1:14). And then when Jesus returned to His home in heaven, He sent the Holy Spirit who would "abide with you and will be in you" (John 14:17).
My body is the dwelling place of the God of the universe, the Creator of the world, the Commander of angel armies, the One who will come again to judge the earth.
Is He comfortable in me, His present temple, His home on earth?
The words of an old prayer go like this: I pray "that God may grant you to be strengthened with power through His Spirit in your inner being so that Christ may dwell in your hearts through faith." Another translator wrote, "that Christ may settle down and be at home in your hearts by faith" (Ephesians 3:16,17).
My body, the dwelling place of my soul and His Spirit, has rooms like my physical house.
Does Jesus feel at home in your kitchen as you prepare meals or clean up after meals?
Do you ask Him to guide you as you feed your family?
Do you pray at every meal, asking Him to bless your food, your table conversation? -Is He an unseen presence when you eat whether you sit down or eat on the run?
Does Jesus feel at home in your living room where you make memories, welcome family, friends and neighbors?
Does this space feel comfortable, inviting, and warm?
I don't mean perfectly decorated, but rather would Jesus feel welcome and relaxed in this space?
Would you need to remove certain magazines or books if you knew He was coming?
What about access to all the screens in your house? Likely you have lots of them. They too are spaces in your home to which you or family members can retreat much like a bedroom or a study.
Is He Lord of your viewing?
Would you be embarrassed if you knew He was watching over your shoulder? He is!
Speaking of bedrooms, does Jesus feel at home in those private spaces?
Have you invited Him into your marriage bed to redeem it and make it holy?
Do your children sleep in peace because you have prayed for their rest, for their hearts to be tuned to His?
Have you asked the Spirit to guard and protect your family and your home while you sleep because all of you belong to Him?
What about your closets?
Does He have access to those spaces too?
Are you hiding things there that you think no one sees but you?
Do you really believe Jesus doesn't know what you are hiding there?
I love the prayer: "Holy Spirit, I invite you to fill the spaces of my home and heart, That the press of evil outside may find no entrance." You are the gatekeeper to your home.  If you open your door to anything unholy: people, movies, conversations, books, games, TV shows, or more, you are inviting in things that will make Jesus, present in you by His Holy Spirit, very uncomfortable.
Ask yourself, "Who is my Lord? Am I trying to have dual control? Jesus can have some but not all areas of my life and home?"
The presence of evil is real. It is not an illusion. There is an enemy who "seeks to destroy and kill," who is the "father of lies" and a "murderer" (John 10:10, 8:44).
Make your body, the temple of God and His dwelling place, welcome and comfortable for Him. Give your home to Him too, inviting Him to invade every nook and cranny and to keep the press of evil away from your home and your people.
He will delight at the sound of your prayer of welcome surrender!