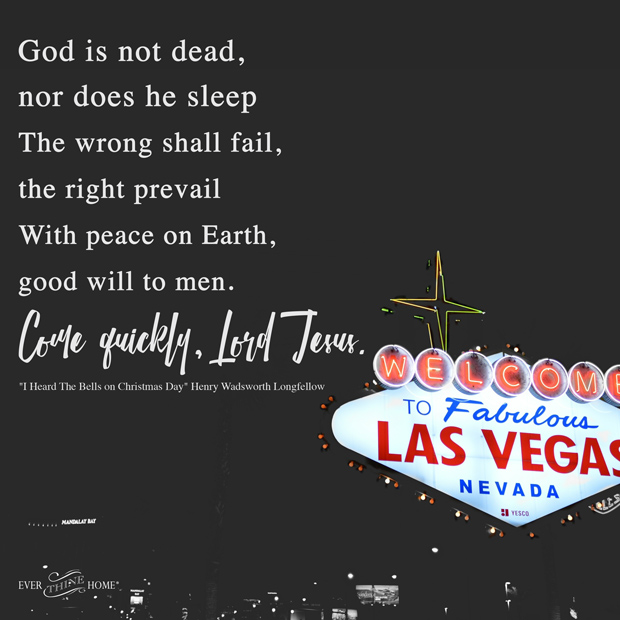 This morning we awoke to another jolt of bad news … another horrible mass shooting. Once again we feel shock. We don't know what to think or do. Our breath, our life, feels sucked away. Fear creeps in … Do we know anyone who might have been there?
We Americans have become so accustomed to peace in our land and yet it has not always been so. Consumed with grief as he absorbed the constant daily news of death, including the anguish of caring for his badly wounded 19-year-old son, Henry Wadsworth Longfellow took to pen and paper to work out his anguish during our Civil War. His words, "And in despair I bowed my head: There is no peace on earth I said, for hate is strong and mocks the song of peace on earth, good will to men."
Did you feel despair, too?
Years ago I found a story of another tragedy that shaped my faith as a mother of six who feared for my children as you do for yours. The story is about a Christian family of four, a mom and dad and two little girls.
It was the early 1900s in the country of Turkey. Life in their village was pleasant once again after the previous decade when many families suffered the unjust ethnic killing of many Armenian men and boys by the majority-ruling Turks.
Their two daughters, Elizabeth and her little sister Acabie, enjoyed a happy childhood playing with neighborhood friends, climbing trees in their backyard, and going to church regularly with their parents who loved them, taught them skills for life, and most importantly taught them the truth from the bible.
But in 1914, World War I began and life changed forever. Turkish soldiers began coming through the village demanding food and housing, forcing the Armenian men to join their ranks. Elizabeth's mother and father toiled to meet the demands, comforted their neighbors and friends, and prayed constantly for the grace to endure.
When Elizabeth was eleven, her father was arrested, beaten, and left for dead.  Tomboy that she was, she followed the soldiers until she found her father, lying on the floor in a building the Turks were using as a prison.  On her knees with her face to his, she listened as he said his last words to her, "Never give up Christ no matter how much you must suffer."  Then he prayed with her for her to be strong.
Months later after fleeing their village to what they hoped was a safer place, it was her mother's turn to face death. Any Armenians married to Turks, belonging to Turks as servants, or those who would renounce Christ would be spared. It was another time of racial cleansing, one of the worst genocides in the 20th century.
Elizabeth's mother said to her young daughters, "I cannot give up Christ. I know that He will watch over you both." They sang together, "What a Friend We Have in Jesus, all our sins and griefs to bear."  The next day she was led away with thousands of other Christian Armenians to exile and death.
I was stunned by the words of this mother. Could I say that to my children? Would I point them to Jesus as their only hope in the midst of huge tragedy?
Gratefully, today our country is not at war, though it feels that way in places as we hear of increasing racial tensions, the sad news of lone shooters taking personal revenge, or terrorist murdering around the globe.
Still the question remains, What will you say when death strikes regardless of the motive or human toll? Will you have the courage to point your children to Jesus, as did this Armenian mother?
As we teach our children about the tragedy, death, and the forces of evil, here are two topics for conversation:
1. God did not promise an easy life. Jesus teaches clearly that, "If the world hates you, you know that it has hated Me before it hated you" (John 15:18). He also declared, "In this world you will have trouble."
Teaching your children to trust in the Bible and in Jesus as the one who has defeated death on the cross and will come and make all things right is the most important conversation you must have with your children.
You do not know what tomorrow will bring. Death is not restricted to the hateful revenge of a lone shooter, but visits us in cancer, traffic accidents, and old age.
Ask God to guide you to meaningful conversations with your children today and this week. Nothing is more important than helping them grow a deep confident faith in Christ.
2. God will make all things right. The great hope for all of us who have chosen to follow Christ with our lives is the promise of eventual justice.  God said, "'Vengeance is mine, I will repay' says the Lord," (Romans 12:19).  We can know, as the Armenian family believed, that God will repay the evil suffered in this life because of our loyalty as Christians.
Read this promise to your children too. Revelation 21:4-5 says, "And He will wipe away every tear from their eyes; and there shall no longer be any death; there shall no longer be an mourning, or crying, or pain; the first things have passed away." And He who sits on the throne said, "Behold, I am making all things new."
In the end, we as moms need to remember that it is good for our children to see and experience suffering as God brings it.  God will not give them too much, nor will He abandon them.
In these difficult situations our children have the opportunity to develop compassion and empathy for others. When we, and our children, suffer loss we understand more fully when others experience loss.  And growing empathy is the antidote to selfishness, which is what God desires to diminish in our lives and our children's lives.