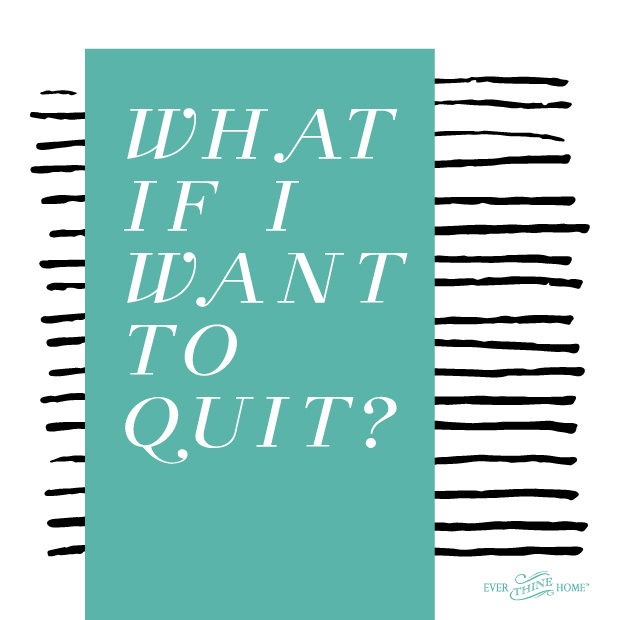 Dear Mom,
What if I want out? Okay…don't freak out. I am planning on staying, because on our wedding day, I promised I'd stick our marriage out. But what if I don't WANT to anymore?
Dear Daughters,
I've wanted to quit before too.
Somewhere in our third year of marriage, I went from a cheerful, confident I can do this. To a sobered, This is harder than I thought. To one day, a desperate, I can't do this anymore! I want to quit! The thought shook me to the core. I remember feeling trapped and desperate and frightened.
We lived in smog-blanketed Southern California—our fourth home in two and a half years—and once again I was in a place with no friends. Not that I would have called anyone. I didn't know how to ask for help. I didn't even know what the problem was.
One thing was clear though: I needed to get away.
Desperate for space, I went into our very tiny master bathroom and locked the door behind me, leaving my husband and baby to fend for themselves. I didn't have any thought for what they might need, I was so caught in my own spiral. All I knew was that I was done!
Agitated and panicked, I sat on the edge of the bathtub, then switched to the toilet, then back to the bathtub. My emotions were jumbled. I was annoyed that I was angry and confused, lonely and scared, and I didn't know why.
I needed my husband to help me figure it out. But I didn't want to come out and admit I was being childish or silly hiding in the bathroom…and wasn't he part of my problem? I was stuck.
After an hour or so, the need for something softer than porcelain seating and some fresh air drove me to sheepishly unlock the door and return to my world. My husband didn't laugh at me or criticize me or condemn me. He surely could have. But he sensed that I desperately needed his patience and gentleness.
We spent lots of time talking that night, working to resolve the issue, whatever it was.  And in the end I resolved, I can do this!, once again.
That doorway conversation, and the hundreds that followed, allowed me to explore my identity as mother and wife and woman over the next two decades, while drawing closer to Dennis as we did this marriage and parenting and life together.
I was learning how to be me, in relation to him.
Each conversation was like the work of adding stones to an arched opening. Sometimes the capstone fit and new understanding seemed complete. Ahh, I get it! Or, Finally, he gets it! Other times, it all collapsed in on us and we had to start building again.
We needed to create those doorways to allow movement in the room of each other's lives—so he could understand me, my limits, my needs, my struggles, fears, hope, and dreams. And so I could understand his in return.
There were certainly times I thought of quitting again. Fast forward five years, after two more moves and three more kids, all under the age of six. I remember standing in the kitchen of our adorable yellow bungalow with six-month-old Rebecca on my hip, the older three in various locations of our 1,800 square feet. Once again, I panicked, I can't do this!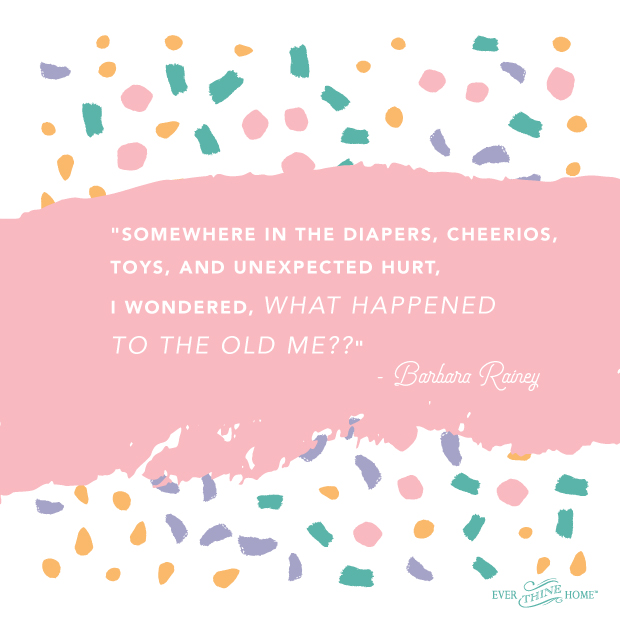 This time I didn't want to literally quit, but I felt confused and absolutely lost. I didn't know who I was anymore. Somewhere in the diapers, Cheerios, toys, and unexpected hurts—physical and emotional—I felt as if I had disappeared. What happened to the old me??
I was the most exhausted 30-year-old I knew. I wanted to run away just long enough to figure out who I was, and how I was to cope with my life. My husband tried to understand and was learning, but I was speaking female, in which he was not fluent.
All the recent dilemmas we'd faced seemed surmountable.  With the right medical care, the right advisers, the right help, I had believed that we could do it together.
That afternoon in our kitchen felt entirely different, harder than any of those previous crisis moments. I knew of no expert, no book, no mentor who could diagnose what I was feeling and offer a solution.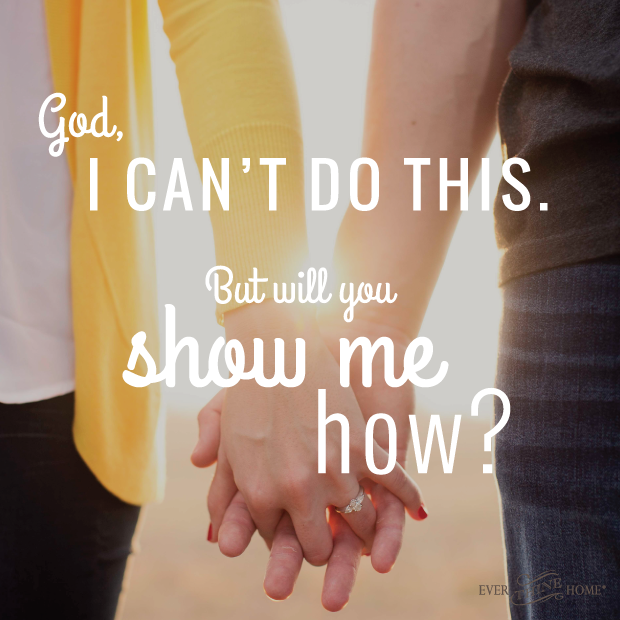 The irony is that God was totally okay with me finally saying, "I can't do this." In fact, I think He had been waiting for me to make this discovery for many years.
What He wanted was for me to add a short prayer, "But will You show me how?"
He wanted me to see that I couldn't do it all. Because that was my problem: I felt I should be able to do it all. I thought I was a failure if I couldn't.
My circumstances were part of His training process to show me, a firstborn achiever, my need for Him, His strength, His power.
Gradually, I realized the ongoing solution was to remain teachable, to never stop being willing to accept what the Master Architect wanted to build in me and in our marriage, and to trust that He was building what I could not.
Over the next two decades I encountered more I can't do this situations:
-How can I manage the fear of my child's potentially tragic choice?
-How can I endure the pain of my prodigal's wanderings?
-How can I possibly change anymore in my marriage?
Every I can't do this moment, led to another surrender and another and another. Through each one I was maturing and becoming more real, more the woman God wanted me to be.
Every marriage is rife with impossibilities. But in those times we can experience the wonder of repentance, restoration, and renewal as we risk building doorways to the hidden corners of our souls. Married couples who love genuinely, willingly, and persistently come to see their beloved in a wholly different way.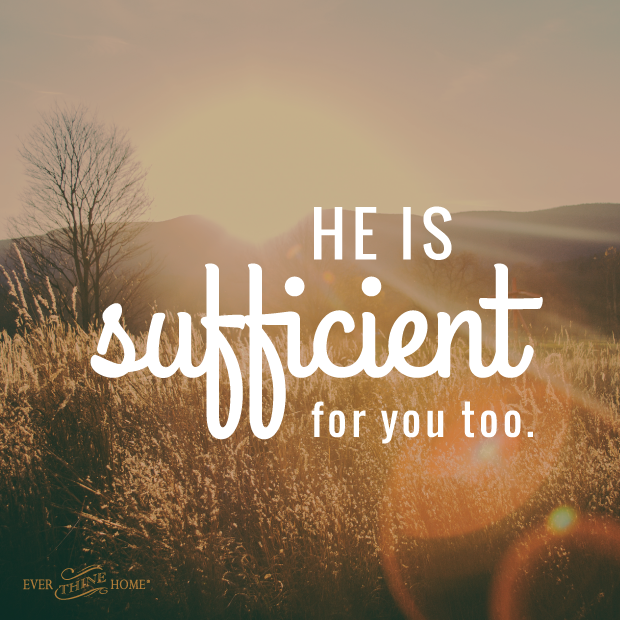 "I can do all things through Christ who strengthens me," was Paul's secret for remaining steady in seasons of "plenty and hunger," when the provision of his next meal seemed impossible (Philippians 4:12-13).  So in my marriage and in my life I have learned He is sufficient when I face another I can't do this. 
And, yes my daughter, He is sufficient for you too.