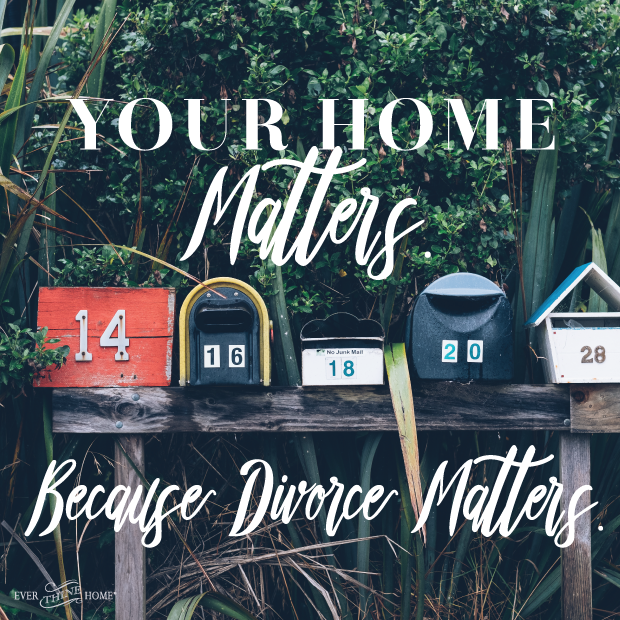 by Tracy Lane
When parents divorce, the kids will not get over it. The holidays will not get easier. Life will not be more peaceful. Divorce matters.
But let's be honest, marriage is HARD. We cannot pretend that there aren't a multitude of complexities that creep in to complicate the marriage relationship.
If you find yourself in the midst of one of those trying times, we aren't saying we don't get it. We aren't saying it feels good. We aren't saying it's easy. We aren't even saying that we've never wanted to quit. (See Barbara's recent post.)
We are simply saying that seeking help and doing what you can to work it out is worth it.
There is no friendly divorce. Divorce is war.  What do you have in a war? You have warriors, in this case, the husband and wife. You have spoils – in this case, who gets the kids, who gets the money, who gets the house?
Yet divorce is painted by our culture today as being a pain-free way to go. It's the way to get rid of your hassles and get rid of this person that you don't like or who doesn't like you or who hassles you.  It's not true.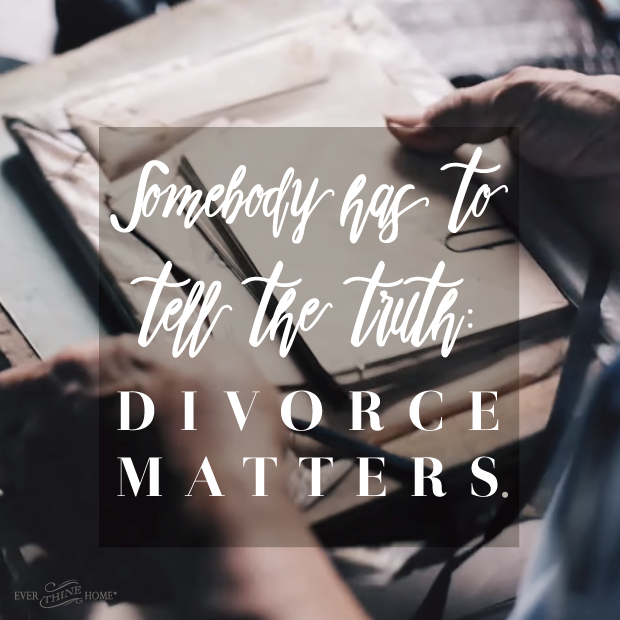 Divorce matters for a lot of reasons.  The most important reason is God says, "I hate divorce." But, secondly if that's not convincing enough, divorce doesn't solve any of your problems. Divorce raises a multitude of practical issues: financially, emotionally, and physically.
Financial cost of divorce
In the year following a divorce, the woman's standard of living falls, on average, by 73 percent. Divorce does cost.
A recently divorced woman recounted, "I had to find a place to live that I could afford to rent that me and three children can live in that feels safe as a single mother. And now I need to start learning how to pay bills and to live on budget. I wrote it all out on paper: I need to quit subscribing to these magazines, stop this, stop that, cut back here, give this up. All these things I needed to change to work my life around this new set financial amount that I was getting which looked, on paper, like a lot of money. But it doesn't always come out that way."
You will spend most of your personal savings and assets paying for the legal process of divorce. An ad for a $59 quick and easy divorce is false advertising. Divorce matters.
Emotional cost of divorce
How can you quantify this? First, there's the trauma of losing the relationship.
And the rest is such a snowball effect. Sell your home, the home you had – where one of your children was born, where you felt safe for five years.
Compound that with all of your wonderful friends moving furniture out of your home, looking around, going what happened? There's a social embarrassment involved, even in a culture that accepts divorce. Many spouses going through divorce divulge the feeling of failure in a fundamental  part of their life.
All of the security you had is gone. Home is gone. Some friendships are gone. Who you were as a couple is gone. It's a whole lifestyle change. Some can make that adjustment. Others have lived the lifestyle so long that another part of the emotional pain is the losses, the things they have to give up as a result of this divorce.
What about outside of the home?  One employee admitted he couldn't do anything. He'd go to work, was supposed to be getting involved in a new project, but most of the time he could only sit in his office and cry.
Divorce matters.
Physical cost of divorce
It's like a car wreck that wreaks havoc on your body. Decades later your back goes out, your knees creak, your arm twists a certain way … all from that old car wreck.
It's the same with divorce. You never fully outgrow its effects.
One man shared that his friends and family thought he was dying. They told him months later that they just knew I had a terminal disease because he rarely spoke. He had lost so much weight, he looked like a cadaver.
Another woman shared, "After finally not being able to sleep more than two hours at a time, I called the doctor and said, 'I've got to have some help. I can't do this.' I was dying inside, outside, physically, emotionally, mentally."
Divorce feels like death because it is death— of a marriage, of a family, of a legacy.
Divorce matters.
 Cost of divorce on children
"We're going to do it for the kids," is one of the most commonly stated reasons for divorce. Parents rationalize that they will be better off if they're not around this conflict all the time.
It's just not true.
What makes a child four times more likely to commit a violent crime?
What increases the likelihood of a child living in poverty, dropping out of school, and becoming a juvenile delinquent?
What increases the probability of a child abusing alcohol, taking drugs, becoming sexually promiscuous and committing suicide?
What creates fear, insecurity, and a higher likelihood that a child's marriage will not last a lifetime?
It's divorce, divorce, divorce, and divorce.
It doesn't matter what age the children are, divorce matters.  Consider this account from an adult child whose parents recently split.
Back to reality
We are not intending to further punish or create more shame on those who are already beating up on themselves. That is not the point. But somebody has got to tell the truth about what divorce is doing to people, what it's doing to the culture, to churches, to families. Somebody has to tell the truth: divorce matters.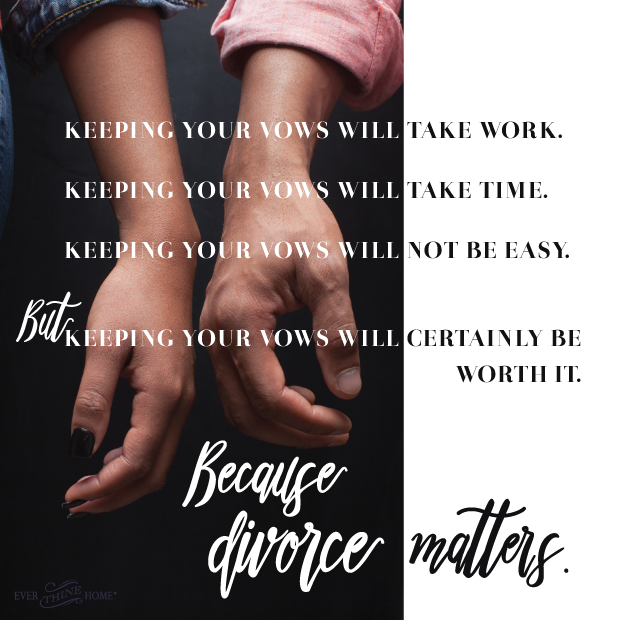 DivorceCare founder Steve Grissom says that if you find yourself considering divorce, you have essentially two options, however you'd like to define them: anger or reconciliation; divorce or restoring your marriage (which is God's ideal); traveling down the path of disillusion, bitterness, and resentment, or forgiving each other and rebuilding your marriage. You decide.
Keeping your vows will take work. Keeping your vows will take time. Keeping your vows will not be easy. But keeping your vows will certainly be worth it. Because divorce matters.
For more information on this topic, listen to the FamilyLife Today series "Before you Divorce."