For many summers, Dennis and I attended annual training events with our entire family for the ministry of Cru. We usually tacked on a week of vacation to make the work of packing a family of eight to travel by van 1200 miles every summer worth the effort. We camped in the mountains or visited national parks for family fun.
Even though we were away, normal family challenges followed us west every summer.
One day during the summer of 1985, I journaled this: "I really wanted to go to the meetings today especially because this is the day of praise and worship. But here I am in the apartment being a mother to a sick child. Mothering doesn't stop. Their needs don't stop. Once again I am isolated and my husband is not. I'm not feeling sorry for myself this time. I know I can worship anywhere. I'm sorting out my feelings."
On the days when my kids were well and all in childcare I attended all the meetings. I loved learning more about God. But that day, the much-anticipated day of refreshment from a favorite Bible teacher along with heart lifting music, was snatched from my grasp. 
I was always inspired by speakers, both men and women missionaries, telling stories of God's work around the world. But I began to wonder why I never heard a woman–a mother–stand on stage and share how she experienced God in her life in her home. I wrote about that in my journal too. It seemed to be a void. I knew something was missing.
I asked myself, "If the Holy Spirit dwells in and with me and other mothers I know, how do I see Him work in my life, in my sometimes very little world?"
That's the question we want you to grapple with in this Summer Blog Club, so let's start looking at Who He is.
How do I know the Holy Spirit?
Knowing the Holy Spirit is a lot like knowing others we are close to. For example, my husband has a name, Dennis, but he is also my friend, my companion, my comforter, my lover, my defender, and more. My children, now adults, have personal names, too, but they have also become coworker, friend, adviser, encourager, and more. To enjoy the depth and variety of all these relationships, we plan time together.  We go to lunch, talk, text, and share life together as much as we can, even though we all live in different cities and states.
The Holy Spirit has names too, and those help us know Him. But He also relates to us in personal ways we can understand from our closest human relationships. So who is the Holy Spirit?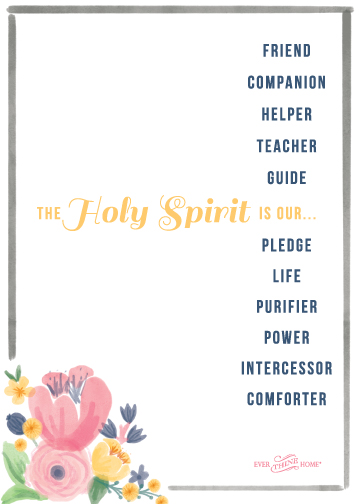 You can see the Holy Spirit is not an it.  He is not a ghost; He is a named Person. He is one with God, the Father, and with Jesus, the third member of the Trinity. The Three-in-One relate to one another and as Persons they possess personality.
I need to understand the Spirit is fully God, possessing all attributes of deity. But then knowing His names and the ways He relates to you and me, makes Him seem closer to my ordinary world.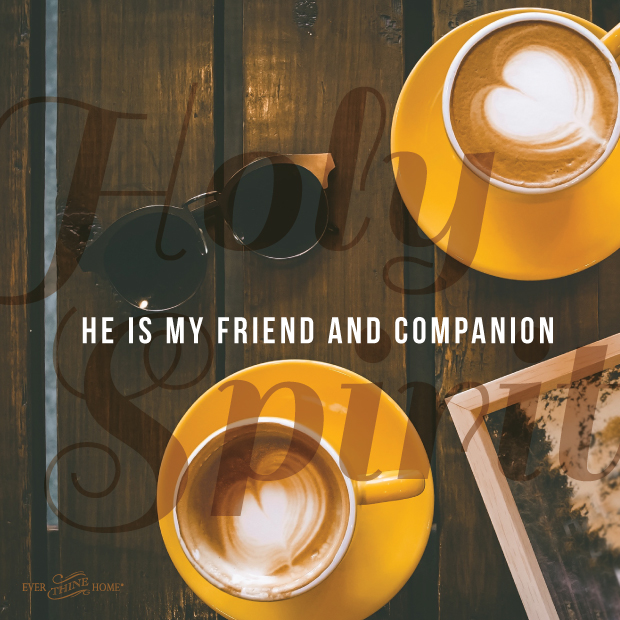 My favorite name for the Holy Spirit is Friend because I already have a deep understanding of what that means.
My best friend on earth is my husband. We have shared life together for over 40 years. In that journey, we have talked about everything together, suffered losses together, loved each other in sickness and health, good and bad times. We have proven we are with each other forever. We promised to never leave or forsake and we have never wavered from those vows, even when our marriage felt impossible.
What a delight to know I have a friend even closer than that! John tells us,  "No longer do I call you servants, for the servant does not know what his master is doing; but I have called you friends, for all that I have heard from My Father I have made known to you," said Jesus (15:15).
When I received Christ as my Savior, Jesus came to dwell in me by His Spirit. "Anyone who does not have the Spirit of Christ does not belong to Him." (Romans 8:9) It is the Spirit of Christ who lives in me, therefore He is my Friend!
Is the Holy Spirit your Friend?
Pause and ponder this for a second: the Holy Spirit, present at creation with God the Father and God the Son, desires a friend relationship with you. A real face-to-face relationship. Does that stun you with wonder?
I felt a little odd at first calling the Spirit my friend. It sounded presumptuous. But as I've talked to Him more and more, shared my life with him, I've become increasingly comfortable calling Him friend. He is not offended at all by my familiarity with Him. In fact, He invites it and desires it.
And I've realized this Person Who can change my heart to love the unlovable, give me wisdom that I'm not smart enough to produce on my own, and teach me the mysteries of God is the dearest Friend of all to me, more important than anyone on earth.
Do you know why He can be your dearest Friend?
He can be your best friend because He is always with you. Before I believed and gave my life to Jesus, I only hoped God was with me. I knew about Him but didn't know Him personally. But when I surrendered my life to Him and invited Him to live within me, the Spirit of Christ came to dwell both in and with me. He has been given to be my constant Companion.
When Jesus promised to send the Holy Spirit, He said, "He will be with you forever" (John 14:16). So no matter where you go, He is always with you. You will never outgrow this friendship. You'll never mature out of this friendship. You'll never drift apart from this dear friend.
David said, "Where shall I go from your Spirit? Or where shall I flee from your presence?" (Psalm 139:7). You cannot escape Him because if you are a child of God He promised never to leave you.
Becoming friends with the Spirit begins as a normal friendship does. With conversation. Like God the Father delights in us His children, so the Spirit delights in hearing from us. He listens to our challenges, our prayers, even our questions and doubts. Moms understand this. We know our children very well yet delight in listening to their faltering prayers to God, their questions…well not so much sometimes… and their exuberant tales of discovering and learning things we have known for decades.
The Holy Spirit longs to converse with you. He's waiting to listen and be heard. Are you talking with Him?
3 Ways to Become the Holy Spirit's friend
As with any new friend, you will probably feel awkward at first talking to the Spirit of Christ in a normal conversational way. To help you get started having more conversations with your Friend, your closest Companion, here are three ways to grow this friendship.
 Make time to talk to Him.
Schedule afternoon prayers using your phone alarm. My friend Rachel, mother of five, 14 and under, does this as a way to connect and realign her heart with God daily. She schedules these three-minute prayers at normal transition times in her day: after lunch is over, first thing after naptime begins, or before dinner prep begins. She often uses a prewritten prayer, like the Ever His prayers you've seen on our blog form the Valley of Vision, a book of Puritan prayers.  Reading prayers helps us turn prayer time away from constantly giving God our list of needs, as if we were punching our order into a vending machine. Instead the prewritten prayers turn us to focusing on Him as a Person Who is your Friend. Hearing someone else's description of our Friend helps us know more about Him.
2. Don't confine your conversations to only a morning quiet time.
We often practice a quiet time as just another item on our to do list. We all know though that real relationships are not boxed into numbered rectangles on a calendar. Real relationships develop with spontaneous ongoing communication. So try talking to Him as Rachel does with several reminders throughout your day.
My friend Sara sets an alarm on her phone during a time the little ones are napping and the big kids are safely occupied. When the alarm sounds, she goes for a ten to fifteen minute walk and talks to God the entire time. Try it!  Find a place you can go outside, when the weather permits, that can become your secret place with Jesus.
Just like you schedule lunch with your good friends so you can have uninterrupted conversations, so we need to have regular, even scheduled, times throughout our days that help us remember to talk to our Friend, the Holy Spirit.
3. Make time to listen too.
All relationships need dialogue. Healthy ones have a balance of talking and listening. When you have snippets of alone time with the Spirit of Christ within you,–or when you are in the middle of chaos at home and need Him– talk to Him out loud to help you stay focused. Sneak away to the bathroom to hear His voice in a quiet space.  Walk out to your car and sit there with your mind clear and ears open.  Step away from an unruly child and tell Him verbally what you need in that moment. Then listen to His answer. When you walk on the trail or drive in your car, talk to Him out loud just as you talk to your friends out loud. Then, practice pausing to listen for His voice, His whispers, His inspiration. (We'll cover listening more in future weeks, but start today!)
Gather with Friends
Find at least one other friend to talk with this week about this post. Share your faith, questions, fears, hopes, and prayers. Be brave and authentic.  We were made for relationships with other humans, but most importantly with God Himself.
Here are questions for you to discuss when you meet this week. Have a great time and pray for one another to become friends with the Holy Spirit this summer.
Discuss what some of your misconceptions are or have been about the Holy Spirit, Who He is, and what He does for us.

Real friendships are two-way relationships. We talk to and we listen to our friends. Talk about how you hear from God. Share ways you have heard from Him.

Talk about praying out loud. Take turns sharing if you have done that or not. Add on what you like about it and what you have learned from it.

Since the Spirit is and wants to be your friend, share how you have experienced His friendship. Share what you tell Him when you talk.

If you've tried afternoon prayers or scheduling time to talk to God, share with your friends what you've learned.

Look up the following verses for added conversation. Take turns reading the verses out loud. Then talk about the reference to friendship with God.  

Exodus 33:11, Judges 5:31, 2 Chronicles 20:7, Psalm 25:14, Matthew 11:19, James 2:23. 
Put it Into Practice
Prayer is simply talking to God. If you are like me, you too forget some of what you've asked Him about. Find an empty journal and title it "Hearing His voice." Begin to record all the ways He works in your life, marriage, home, and your mission field, both home and work.
We'd love to hear from you about your group and what you are learning personally. Leave a comment here in the comments section. Feel free to ask questions too! We will be sharing a few Facebook live videos on our Ever Thine Home Facebook page in the next six weeks, too, to answer questions you send in.