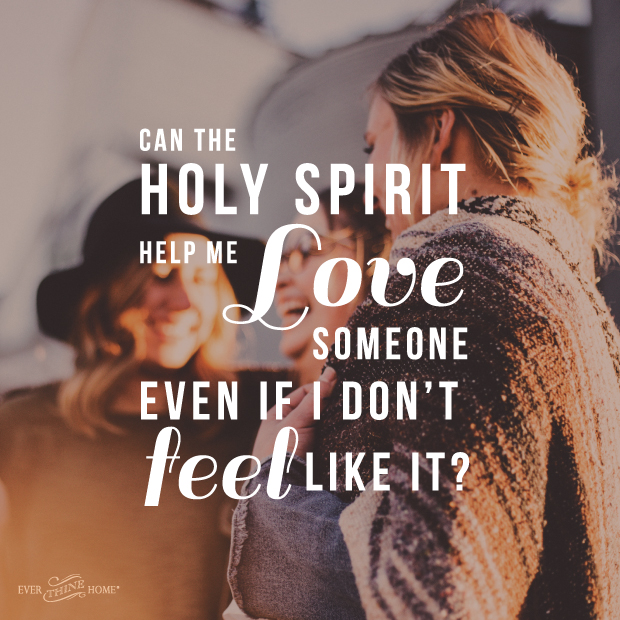 Summer Blog Club Week 4
Years ago we had neighbors with children about the ages of two of our middle kids.  They didn't come over to play very often, but when they did, I insisted they play outside in the back yard. One of them seemed like an angry kid.
This child used a few bad words, sometimes played rough, and found kindness difficult. The mama bear in me wanted to protect my children, to hurt anyone or anything that threatened my little cubs. Knowing the family wasn't a believing one, and wanting to have a positive influence on them, I chose to continue to let this child come over to play periodically.
However, instead of me being the influencer, I soon realized this child was influencing me. I began to dislike our little neighbor's presence, attitude, and actions more and more. Anger was growing in my heart.
To make it worse, I didn't want to love this child. In my mind, behavior like this didn't deserve to be rewarded with grace and love.
One day I realized my attitude and my lack of love was not pleasing to my God.  The Holy Spirit is the one Who showed me the truth about my attitude. The Spirit, my Purifier, was inviting me to let Him make my heart more pure and clean like Jesus.
"Be holy for I am holy."
As a member of the Trinity, part of the Holy Spirit's job is to make me more holy. This means He is continually working to make me set apart from that which isn't like God. Our different God-like responses to situations, like my inability to love even a child, will be a witness of God's power to change.
The Spirit's work is to help me see my naturally sinful responses, acknowledge them as displeasing to God, and then to transform them into pure attitudes and actions.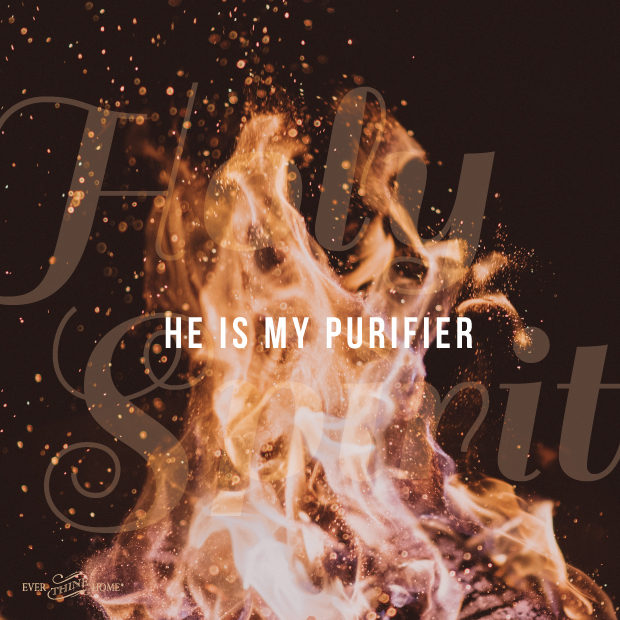 In week 1 of our Summer Blog Club, we asked, How can I have pure motives? God commanded His people, Israel, to be holy in Leviticus 11:45. He repeated the instruction to us in 1 Peter 1:16, "You shall be holy, for I am holy." He knew He was asking the impossible. He is asking us to do something that only He can initiate in us.
He knows far better than we do how much we need our Purifier, the Holy Spirit.
We can only see our sin and opposition to God as the Holy Spirit shows it to us. Once I see what the Holy Spirit has shown me about my heart, I have a choice of surrendering to Him and His desires, which are for my good and the good of others, or refusing.
It is then, when surrendered to the will of the Spirit, that my motives can become pure.  Only He can produce purity in my heart.
One of my role models, Elisabeth Elliot, said, "One doesn't surrender a life in an instant. That which is lifelong can only be surrendered over a lifetime." So be encouraged that your inability to stay surrendered is normal!
With our neighbor child, I knew my opinion, my sense of what was right, didn't matter before a holy God. Jesus loved this child and died for this child as much as He did for me. My proud, better-than heart could only be changed by Jesus.
I surrendered to the whisper of the Spirit and prayed God would give me His love because mine was insufficient. I asked Him to remove the coldness in my heart and replace it with His love that was pure, kind, patient, compassionate, did not act unbecomingly or take into account a wrong suffered.
These qualities of love in First Corinthians 13 and the Fruit of the Spirit in Galatians 5 are not possible for me to produce. Only the Spirit of Christ can produce these holy, God-like qualities in me.
To my great surprise, I discovered soon after I prayed that my animosity toward this child was gone. I didn't cringe when I saw this little one walk down our driveway. I began to feel compassion instead of anger. My eyes were opened to see it wasn't all the child's fault.
What I experienced was the work of the Holy Spirit, my Purifier, Who loved me enough to show me the truth about my heart and possessed the power to change me.  I experienced the truth of this verse: "For God's love has been poured out in our hearts through the Holy Spirit who has been given to us" (Romans 5:5).
After I saw what God could do with my heart over a neighbor child, I began to ask Him to help me love others, like my own children when they weren't so easy to like. Or my husband on some days, because let's be honest…those closest to us are those whose flaws we see most clearly, who hurt us and disappoint us more often than others.
Changing a cold, hard, stubborn heart is a miracle of God. Why is it miraculous?
Because we humans have a free will. No other living creature resists His voice. But we can and often do resist the desire of God's Spirit to change our hearts. We are naturally judgmental, like I was with our neighbor child. We do not possess pure hearts of love as does God.
What are you teaching your children?
I imagine you are teaching your children, or other's children, to be nice to others, saying things like:  "Don't hit. Don't take toys away. Be kind.  Be respectful to adults,. Say please and thank you," and all the other social skills needed for a smooth transition into the adult world. These lessons are a crucial part of parenting and being an adult role model.
But are you teaching your children that they cannot produce any of this niceness on their own? Pretending to be nice is not the goal. A heart that overflows with love and kindness through the Spirit's power is.
When one of your kids says, "I hate you," to a sibling or a playmate, do you say, "You shouldn't hate people, or that's not true, you don't hate your sister"? Like you moms, I taught my kids to be nice and to say the right things when they were little. I don't remember specifically telling them their hearts were incapable of loving as God wants us to love.
Scolding with "you shouldn't," or ignoring a child's harmful words assuming he will grow out of it, is much easier than taking the time to explain to your child the truth about his or her unredeemed heart. Children are born sinners and part of your job is to help them see they need Jesus too. Not just for entrance into heaven, but they need Him so that they too can experience His life changing power to transform hearts.
One of my most frequent prayers for my kids was that they would recognize their need for a Savior. I wanted them to see they needed Jesus, to know their own brokenness, and to understand they couldn't change their hearts on their own.
When you experience God working miracles in your heart, share those stories with your children, and with your friends too. Let others see you depending on Him. Invite them to join you in the journey of discovering the supernatural work of God in human hearts.
Seeing God work encourages faith in everyone around you.
Model how to pray with your children, too.  Teach them to be specific, just as you are learning to be specific.  Sit with your child and ask her to pray your words after you, saying, "Here is how we talk to God about our hearts. Jesus, I don't love my brother right now. I'm angry because he said that about me, and I don't want to love him. Will You help me want to love him? And then will You give me Your love because I can't love on my own?"
Direct your children to ask God for His love for the bully at school, the teacher that makes life miserable, and for their siblings. Help them learn to pray this way by both giving them cues to repeat after you and letting them pray out loud on their own with you listening and praying along.
Great exploits for God aren't always on a foreign mission field. Your home is your first and most important mission field. Experiencing the Holy Spirit's work in your life and your home, teaching your children about Jesus, introducing them to Him, guiding them into a real relationship with Him so they don't see faith as a list of rules is your most important assignment as a parent.
Salvation is a one-time decision but walking with the Holy Spirit, our Friend, our Helper, our Purifier is
-a daily surrender
-a daily listening
-a daily conversation.
It's not a once a day prayer, but moment by moment as you encounter challenges, problems, and opportunities where you need the help only the Spirit of Christ can provide!
With how many do I need His love?
Here is a practical heart check as we close this lesson. Make a list on paper or your phone in response to these questions:
Who are those you have hard time loving?
-in your family
-at work
-in your neighborhood
-at church
Be brutally honest with yourself because God already knows anyway. This list is between you and Him alone.
Once you've made your list, take five minutes to pray. Talk to the Holy Spirit about these people. Tell Him how you feel if you want. But most importantly surrender your inability to love to Him and invite the Holy Spirit to change your heart.
Here is a short prayer you might use as you talk to Him.
"It is Thy will that I should love Thee
with heart, soul, mind, strength,
and my neighbor as myself.
But I am not sufficient for these things.
I cannot love Thee…
Until You set me free." (Valley of Vision)
Then sometime this week, ask your children to make a list of those people they find difficult to love. Invite them to surrender their hearts to Jesus over and over every day, too. Do this as a family. Be united in your desperate need for Holy Spirit transformation.
Gather with Friends
In your group, share personal situations where loving has been difficult. You might also discuss why it is hard to admit that we aren't as loving as we think we are.
Then take turns talking about your lists of who is hard to love. You don't have to divulge any names. Have you asked for the Holy Spirit's transformation? Have you seen changes already?
Bravely talk about what you love most in life. Jesus taught us to "love the Lord your God with all your heart, soul, mind, and strength." What do you love that competes with loving God supremely? Is it comfort, approval, being seen? What else? It's ok if God isn't your first love right now as long as you are willing to let Him realign your loves. Will you ask Him to do that? Remember His instructions: Do not love the world or the things of the world. (I John 2:15-17)
Talk about why self-effort to be nicer, try harder, think positive thoughts is not enough and will never transform yours or your children's hearts.
If everyone in your group is a mom, talk about ways to help your children learn to love. Share your mommy challenges and pray for one another.
Close your group with someone reading 2 Corinthians 3:18, "We all…are being transformed into the same image [Christ] from one degree of glory to another. For this comes from the Lord who is the Spirit."
For more, read the following scriptures:
1 Corinthians 13
Galatians 5:22-23
Philippians 4:8
Matthew 5:8
1 John 3:3
FREE Lock Screen Downloads