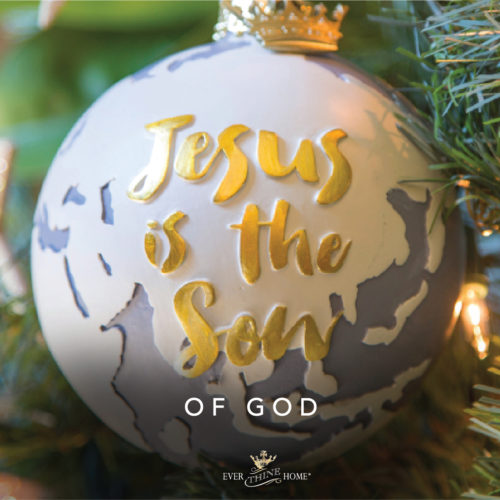 And when Jesus was baptized, immediately He went up from the water, and behold, the heavens were opened to Him, and He saw the Spirit of God descending like a dove and coming to rest on Him; and behold, a voice from heaven said, "This is my belovedSon,with who I am well pleased."   Matthew 3:16-17
Joseph and Mary were about to become mom and dad to a son. And though Mary was pregnant with Jesus long before ultrasound technology and modern birthing practices, this young couple knew their baby was a boy who would live long enough to save His people.
This baby wasn't just any son; He was God's only Son. He was a Gift sent with love. To be certain we don't miss it, over 40 times in the Gospel of John the phrase "sent from God" is repeated. This Son was not from men but was of God, sent by His Father in heaven to a broken earth with a plan to rescue and redeem.
God Almighty understood what we can barely comprehend: that our salvation could not be accomplished by any other person than Jesus, God's own Son.
A son carries the DNA, the genetic makeup, of his father. So, likewise God's Son, Jesus, is the "exact imprint of God's nature, and He upholds the universe by the word of His power" (Hebrews 1:3).
To Mary, the angel Gabriel had delivered the message, "And behold, you will conceive in your womb and bear a son, and you shall call His name Jesus. He will be great and will be called the Son of the Most High … the child to be born will be called holy—the Son of God" (Luke 1:31-32, 35).

From the most well-known verse in the Bible, John 3:16, we understand much about the newborn baby in very simple words:
"For God so loved the world that He sent His only Son, that whoever believes in Him shall not perish but have eternal life."
Understanding the first half of John 3:16 is important. But ignoring the second half can be deadly: "Whoever believes in him shall not perish but have eternal life." This is an invitation to believe in Jesus, the Son of the Most High, to welcome His free gift of salvation, and to enter into eternity by faith.
Though we can't see Jesus the Son in person, we can choose to believe by faith. Jesus said before He ascended back to His Father, "Blessed are those who have not seen and yet believed" (John 20:29).
Those words describe you and me!
Do you believe Jesus, the Son, was sent by God to save you?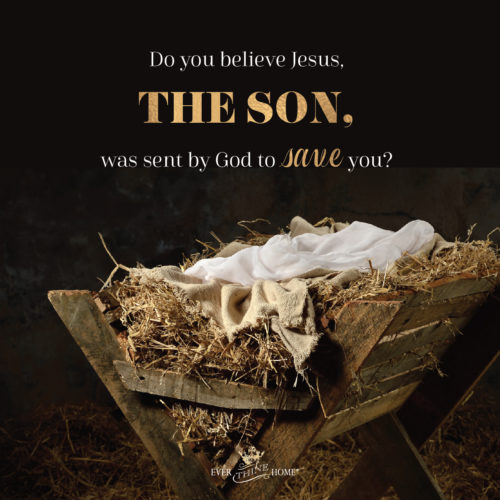 Have you welcomed Him into your heart as your Savior? If you haven't welcomed Him and His free gift, will you open your heart this Christmas to Him?
And when I think that God, His Son not sparing,
Sent him to die, I scarce can take it in—
That on the cross, my burden gladly bearing,
He bled and died to take away my sin!
Then sings my soul, my Savior God to Thee;
How great Thou art, How great Thou art!
From "How Great Thou Art"