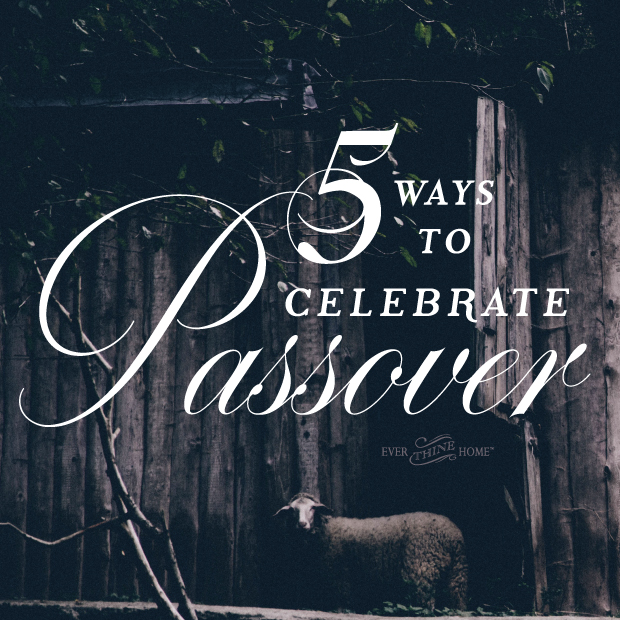 When is your Passover party? Wait. You haven't planned it yet…
You might think that celebrating Passover is only appropriate in the Jewish tradition, but this holiday is the foundation upon which Easter stands. They are inextricably tied together.
Passover is the first feast God commanded His children to celebrate. This meal celebrates and commemorates God's liberating of Israel from Egypt. What that means to those of us who grew up singing kids' church songs is it's the day "Pharaoh Pharaoh, oh baby, let [God's] people go. *umph!* Yeah. Yeah. Yeah. Yeah." Anyone else remember? Now I can't get the song out of my head!
The Israelites were enslaved for 400 years. Serving and suffering, they cried out for God to deliver them.
God answered the Israelites' plea for deliverance in His perfect timing. He called Moses from a burning bush in the desert and told him to return to Egypt to request freedom for God's people. But Pharaoh denied Moses' plea, so God sent ten plagues to punish Pharaoh and to prove His power.
During the tenth plague, God killed all the firstborns—humans and animals—living in the land of Egypt. That would have also included the Israelite slaves, God's own people. But, as God always does, He provided a way out for anyone who would follow His specific instructions.
God instructed Moses to tell His people to sacrifice a perfect male lamb. First, they were to paint their doorposts with the lamb's blood as a sign of obedience. Then when the angel of death saw the blood, he would pass over that house. After preparing their doorway, the family prepared a meal of lamb, unleavened bread, and bitter herbs.
The angel of death came at midnight (Exodus 11:4, 1:29) and took the life of every firstborn grandparent, parent, sibling, even tiny babies.
Shrieks and cries of family members rose across the land as they discovered the dead. God's people listened, waited, and prayed. As morning neared God's promise proved true; only those with the bloodstained doorpost were spared. God indeed passed over those who believed in Him for salvation and deliverance.
While this age-old story may feel a bit irrelevant today, understanding the deeper meaning makes our Easter celebrations rich and full of wonder at God's power and love.
This is likely an entirely new idea to you. So here are five ideas for pulling off a night of remembrance, including a Passover meal.
1. Watch The Ten Commandments, the original movie starring Charlton Heston, to prepare your family on the weekend before Passover. Your family will have a better feeling for the story and the miracles of God's deliverance.
2. Place a stuffed lamb on your table, maybe from your child's toy bin, as a reminder that Jesus is "the Lamb of God who takes away the sin of the world" (John 1:29).
3. Paint your front door frame—or hang a red ribbon across—on Passover evening. Buy washable red paint to make this easy. Make this a family activity as you read the story of the first Passover (Exodus 11:1-10, 12:29-36).
4. Prepare a simple Seder meal and act out the first Passover with your children. Wear bathrobes, shawls, and sandals to pretend to be the Israelites. You can serve pita bread or Passover Rolls; hard-boiled eggs; charoset; a piece of parsley for each person; lamb or chicken for the meat; and grape juice or wine. See suggested recipes below. For traditional guide to this meal visit http://www.messianicseder.com/messianic_haggadah.html#top.
5. Go to the Jewish temple in your town and join them in their Passover meal.
The Passover is still meaningful and appropriate today. Any way you choose to celebrate is worth it.  It's good to remember the faithfulness of God to the Israelites all those centuries ago because that is the same God who is our God today: mighty, liberating, redeeming, pursuing, fighting for His people, and making a way to deliver us back unto Him.