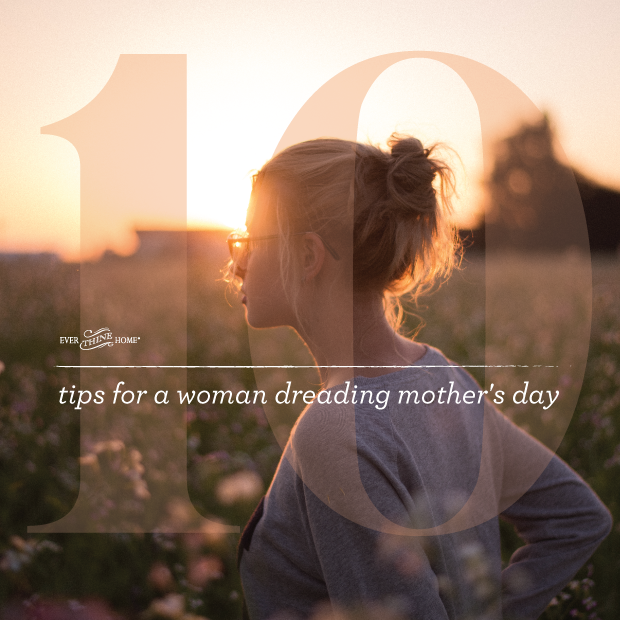 Do you know someone who is dreading Mother's Day? 
The commemorative celebration filled with flowers, joy, and appreciation can turn into a trigger of despair for many women. As a childless stepmom of 28 years, I can remember a number of times it was unenjoyable.
A woman might be depressed or discouraged on Mother's Day due to: a death (especially a child or a mother), divorce, infertility, singleness, illness, a wayward child, or—being a stepmom. Surprised? When a woman marries a man with children she often steps into a new world that is complex, confusing, and lonely. And she can be ambushed by the sadness that accompanies Mother's Day.
Here is a list of suggestions on how to lift the spirits of a hurting woman on the day we celebrate mothers.
1. Pray for God to reveal a woman who needs encouragement this year. I am amazed at the prompting and people God brings to my mind when I ask. Sometimes it's the lady behind the counter at Dunkin Donuts, sometimes it's a dear friend.
2. Pray for that woman between now and Mother's Day.
3. Send a card. It can be a simple, "glad we are friends."
4. If you wish to do more I suggest a call, meal, small gift, flower, or any memento that reveals "I see your pain today."
5. Understand that the person may not be emotionally able to chat or socialize.
6. Make time for the hurting woman. If possible spend an hour that weekend for lunch, the park, or the cemetery. Just knowing that someone cares can change the entire day.
7. For the single parent offer to take her child to the dollar store so Mommy has a gift.
8. For the stepmom, nudge her husband to do something nice in appreciation for parenting his kids. If he refuses, you do something.
9. When a death has occurred, photos, mementoes, or fond memories of the deceased can ease the grief. Family members often fear their loved one will be forgotten.
10. Infertility can be a hard one to comfort. Most women in this circumstance share that the goal is merely to get through the day. This woman's womb longs for a baby—weep with her. Don't minimize her pain, or offer cliché answers such as, "just relax it will happen" or "at least you can adopt."
For the hurting woman it's best to avoid places celebrating Mother's Day—which might include church. Many women avoid attending on Mother's Day because the celebration is one more reminder and stab to her wounded heart.
This Mother's Day ask God to point you to one woman who is dreading the day. Even if God is the only one who sees your effort, compassion never fails.
Laura Petherbridge serves couples and single adults as a friend and teacher on the topics of marriage enhancement, divorce prevention, and divorce recovery. A featured expert on the DivorceCare video series, Petherbridge is a sought-after speaker at seminars and retreats around the world, with nearly twenty years of experience in helping others find healing and hope in their relationships. http://www.laurapetherbridge.com/