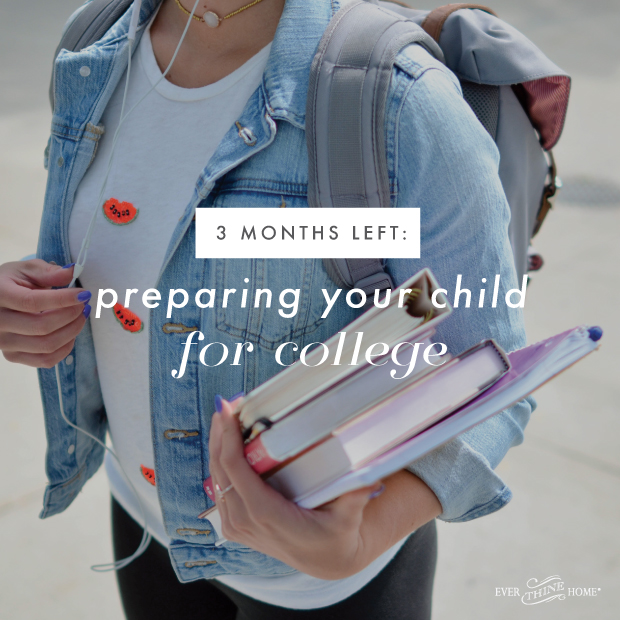 Just a quick run into the grocery store, she thought.  She only had a few items she needed to pick up. Chicken broth, two onions, a bag of lettuce, and cereal. As she searched the cereal aisle for her daughter's favorite, a knot formed in her stomach. With no warning, tears began to stream down her cheeks. I'll only need to buy this cereal a few more times before Jessie goes to college; then she won't be in the house anymore, she realized, sobbing in the cereal aisle.
Maybe you haven't broken down in a grocery aisle, but more than likely you've felt the time with your college-bound child slipping away as their campus move-in date draws closer and closer.  In You have only a few months left with your child permanently living in your home. Though you have been raising your son or daughter for over 210 months, these last few seem to hold increased pressure with heightened expectations.
Instead of placing unrealistic expectations on yourself, consider how to best set your child and yourself up for success.
When your son or daughter looks back on their last summer at home, how do you want them to remember it? What three words would you hope they would use to describe it? Consider how you might intentionally foster conversations and moments spent with your child in their last few months at home.
For over a decade, I have had the opportunity to support students as they transition into college life. Over and over I watch students who were raised in the church and in Christian homes grapple with whether or not they will continue in the Christian faith.
In 2011, based on multiple studies from a variety of organizations, the Fuller Youth Institute released an estimate that 40-50 percent of high school graduates fail to maintain the Christian faith they were raised with. In my experience, the bottom-line question each student seems to grapple with is why do I believe what I believe? When unable to answer that question adequately, students drift quickly.
So what is a parent to do?
1. Begin the conversation now by asking questions.
Your son or daughter has heard countless instruction and teaching from you, their Sunday school teacher, youth pastor, and so on. Your child knows what you believe. Instead of viewing this as a final opportunity to preach, begin spiritual conversations with your child by asking questions.
You know what I believe about God and the Bible, what would you say you believe? 
How would you explain why you believe that? What will success look like your first semester of college?
How does your faith factor into that?
What will your top five priorities be your first semester?
Where does God fall in those? How will you prioritize your Christian faith and values? 
Listen. Don't jump in, argue or try to influence their answers. Keep asking questions. It's okay if they are unsure. Encourage them to explore what they believe now, before they are in college. If they have an adult small group leader or someone who has served as a mentor, encourage them to continue the conversation with them. 
Oftentimes students may feel safer exploring their faith and areas of doubt with someone other than mom or dad. That's okay. Point them to another godly adult who will also point them to Jesus!
2. Pray for your child.
Commit to setting aside 5-10 minutes each day to specifically pray for your college-bound child. Pray that God will use the summer months to prepare their heart for this new chapter of life. Ask Him to provide wise, godly friends and mentors to encourage your student during this time. Ask for God's wisdom and discernment in how to converse with your child about their faith journey.
Pray that your child would encounter Jesus in a life-changing way this summer, that God would grab a hold of his or her heart now. Pray for your child's future roommate. Pray for the friends God is already preparing to bring into your child's life. Pray for an adult who will love, encourage, and point your child to Jesus during the summer and once at college.
Praying for your child is quite possibly the most powerful thing you can do. Don't dismiss it.
3. Learn from others. 
There are a lot of great, faith-based resources out there on how to best prepare your student for college. Don't be afraid to grab one or two books this summer on how to converse with your student about their faith and other college-related issues.
A Parents Book of Prayers by Tony Wood
Preparing Your Teens for College by Alex Chediak
Power of Praying® for Your Adult Children by Stormie Ormartian
The College Girl's Survival Guide by Hanna Seymour
While these may be the last three months your child lives permanently at home, you aren't losing your place of influence in their life. It's simply shifting. You will continue to be their greatest champion, faithful prayer warrior, and reminder of God's infinite love.
Hanna Seymour has spent over a decade mentoring college girls and helping them navigate the highs and lows of college. Her book, The College Girl's Survival Guide, is a culmination of all of the conversations, emails, and heart to hearts she's shared with those women. It contains the answers to the top 52 concerns of college girls (roommate conflicts, homesickness, relational difficulties, lack of direction, and more) and is packed with down to earth, biblically-based advice designed to help you not only make the most of your college experience, but to create habits that will propel you into your twenties.
How you live your life in college will easily determine the next decade of your life. Hanna wrote this book for a college girls to challenge you, encourage you, and help you become the best version of yourself that God created you to be. Click here to learn more about her book or to read her blog.