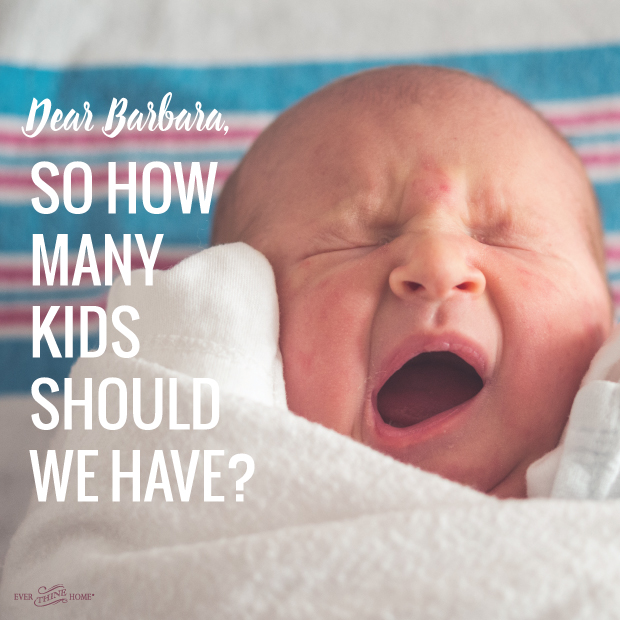 Dear Barbara: I know being a mom is a high calling. Sometimes I wonder how high I want to be called. I feel exhausted with little ones tugging at my legs all day and my husband is asking for more. So how many kids should we have?
Oh, tired mom. I remember those days filled with little giggles and endearing, "Hold you me!" requests, along with sibling rivalry and defiant little eyes challenging mine as a toddler arm swiped mac n cheese off the high chair tray. Splat on the kitchen floor. Long hours, endless instructions, new baby nursing, and discovering my desires for order and beauty in my home were not the desires of my little ones.
There were days Dennis and I talked about more babies, even after our sixth, who was quite the surprise. And days I wasn't sure I'd survive till bedtime.
Planning your family is an important discussion … an ongoing conversation that, for most couples, begins before marriage. Just as we would never consider taking a special occasion dress to a 12-year-old for alterations, so making important decisions must be taken to the One who has the knowledge to give us the right result.
We have to look at what God says in His Word.
We have to listen to Him and not other people.
We have to listen to Him and not ourselves: our own dreams … or our own fatigue.
Start with God's perspective. Children are a gift. Countless times I did not feel my children were the kind of gift I wanted when they stretched me to my limits in utero and out! But clearly God says in Psalm 127:3, "Children are a heritage, a gift, from the Lord, the fruit of the womb is a reward." I must choose His eternal view rather than my momentary, self-focused, exhausted one.
The Bible makes it implicitly clear that one of the distinct purposes of marriage is procreation. It is the rare exception that God would clearly direct couples not to have children. He says in His word that He is the one who opens and closes the womb.
Sometimes infertility is temporary, like my friend Sara who mourned her closed womb and then discovered motherhood with four adopted children who needed forever families. After those four were given by God, He opened her womb and gave two bio kids. And sometimes He closes a womb permanently.
But aside from infertility issues, any Christian couple who seeks and desires to follow God in their lives, Scripture makes it clear in Genesis that His intentions are for couples to create children. Having children is one of three clear purposes for every married couple stated in Genesis, the book of beginnings.
First is to reflect God's image as male and female made in His image. Second is the command to Adam and Eve to rule or reign over the earth as God's co-regents, His representatives on earth. And third is God's plan for believers to reproduce a godly heritage, children who will take God's message to their generation, to carry on the work on His kingdom.
Children are an important part of God's overall plan for our lives whether biologically conceived, adopted, or fostered. Jesus loved the little children He knew and met during His years on earth. And so should we, for we are like children even as adults: mistake prone, needy, complaining, hard to live with at times, and yet hopefully growing to maturity by His grace.
Yes, adding children to your family can feel like an inconvenience. The first one always radically changes a parent's pre-kid lifestyle. But I can say without reservation parenting our six was worth it, even with the headaches, fears, and all their rebellious years. I learned more about God's love for me—His mercy and grace and generous forgiveness— than I would have ever learned without children. God is a Father and His first two kids disobeyed royally, as have all of us who came from Adam and Eve. He knows a thing or two about parenting. He will guide you through the process of the years.
Children are good for us and we for them. Neither of us can grow up into the likeness of Christ without the other.
It's a hard jump deciding to go for parenthood or to add one more. So again, don't listen to your mother or mother-in-law's wishes, which feel like pressure. Don't listen to your own fears or your lifetime dreams.
Listen to God's spirit. Trust Him. Rest in His leading, which is ALWAYS for our good.
And continue talking with your spouse. All the common sense circumstances of your life, like your ages and health issues must be considered. Be careful of letting finances get in the way. Children don't need the latest of everything nor do they need the best education money can buy. They need the committed love of two parents who believe implicitly in God's "nothing is impossible" character to guide them. He is a good father who listens and responds to our prayers.
Yes, most days, motherhood feels hard. A lot of days marriage feels hard, too. But the difficult feelings and admittedly difficult realities don't trump what God has for our lives. Getting married and having kids—when and how many God tells you—is an act of faith.
Why? Because our lives belong to Him if we have chosen to follow Christ. It is His will that matters, not our own. We must be willing to hear and obey the Holy Spirit inside each as He guides us together to fulfill the "… good works, which God prepared beforehand, that we should walk in them" (Ephesians 2:10).
This decision, and countless others you'll make as a couple, are when you throw yourselves on the floor before the throne. Both husband and wife deciding to trust and follow what God has for your unique family.
Together pray, "Okay God, I trust You."