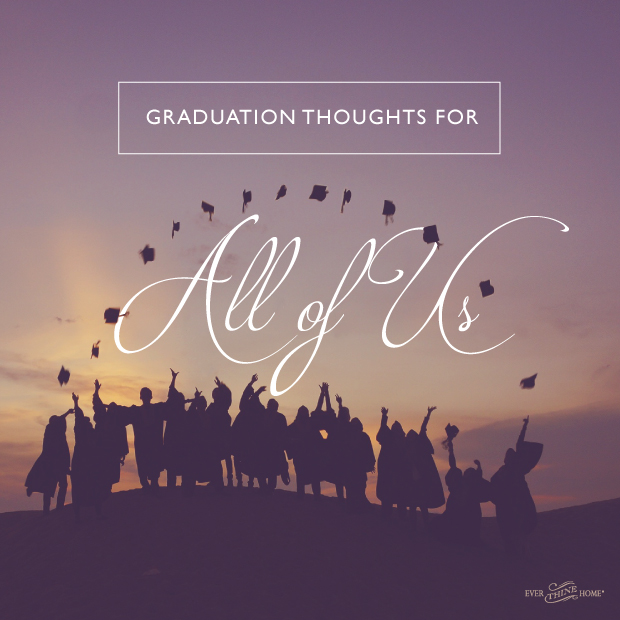 Does your family have a graduation this year? If not, I imagine you have received an announcement or two in the mail from someone who is marking this transition in life.
May and June are booked annually with academic graduations of all kinds. From the newly-popular kindergarten graduations to the traditional ceremonies marking the end of high school, college, graduate school, flight school, seminary, and a hundred other vocational training school finales, this is the season to celebrate milestones on the road of life.
But graduation isn't just about academics. I recently graduated into another decade of life, and this transition for me is just as important as any college senior's as I think about what I want to do with the next phase of my life. Like New Year's Eve celebrations, graduations give us an opportunity to look at our lives and make adjustments and plans.
This past weekend during a day of heavy rain which prohibited our outdoor plans, my husband was flipping through channels and happened upon the National Geographic Geography Bee finals. We watched with amazement as the three young men in the finals answered questions about places we'd never heard of with names we could never pronounce. We thought we had a fairly solid grasp on world geography until we saw this event. We turned off the TV, pondering our vast ignorance, realizing how very average we are!
This weekend I came to a number of conclusions in light of my very average intelligence and abilities. These are my own graduation thoughts.
1. Being in the vast middle of the bell curve of intelligence is not an excuse for mediocrity. I never was valedictorian or even close, but continuing to learn, grow, and become in the journey of life is more important than a title. I'm personally more committed than ever to using my limited abilities to the max by actively cultivating what I've been given. In the words of Jesus, I plan to invest my one talent well and not bury it.
2. Intelligence is not supremely important.While superior intelligence may win praise from men and a scholarship prize, it is not a ticket of praise from God. He cares about the heart, particularly the faith that resides there. Faith is what matters for eternity. 
A.W. Tozer said, "The most important thing you think is what you think about God." All the subjects of school studies are important because God created them, but study of the Creator is supremely more important. I intend to be more devoted to growing in my understanding of God than in previous decades. Settling for less is unacceptable.
3. Knowing the finish line is near is an asset. I haven't been given a probable exit date by a doctor, but I'm more aware than ever that my time is short. 
One of the advantages of the empty nest is not being hindered by the indestructible feelings of youth. When I was young, it was easy to think I had plenty of time for everything I wanted to do in life. Now I see the end coming, and I'm more determined than ever to make the most of my days, to work harder at the relationships that matter most, and not to squander any of what God has given me to use for His kingdom.
I may not have a cap and gown for this graduation, but I'm preparing for the next season more seriously than I did any previous milestone in my life. And I want to challenge all you who are average like me to set aside mediocrity and laziness and instead become great for eternity.