To my friends far and wide:
Christ is risen!! The best news of this month and of all time.
Here's a photo of a cross our 83-year-old neighbor built for us out of our old deck boards. We finally cemented it in the ground last fall and I have loved seeing it every day out our window. I took this photo the Monday after Easter with our snowball bush in full bloom behind it.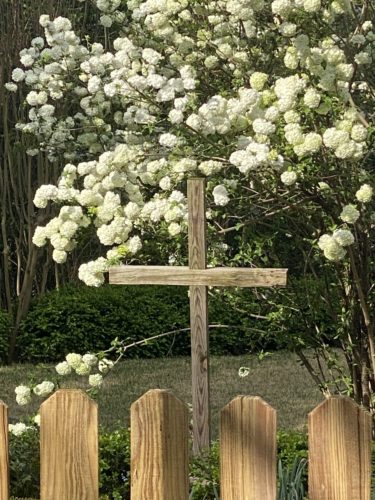 I have lots of stories and good things to share in this email, including a few of "my favorite things," so grab a cup of tea or coffee and enjoy!
Dennis and I spent Holy Week and Resurrection Sunday at home, just the two of us. Primarily because of my full schedule, adding a trip to see some of our kids was not wise. We'll be seeing most of them in May when our grandson gets married and we attend two high school graduations. Pics to come in May!
On the first weekend in April I was privileged to speak at a women's retreat here in town for Christ Community Church. I spoke on a topic I've been doing a lot of thinking about: "Disappointed in God: How to Grow Hope in Hard Seasons." As always, I learned a lot as I prepared. Probably more than the attendees. My oldest, Ashley, came and attended with me which was a huge encouragement. She's a cheerleader for me.
Here are a few photos of the weekend.
my Ashley and me at the retreat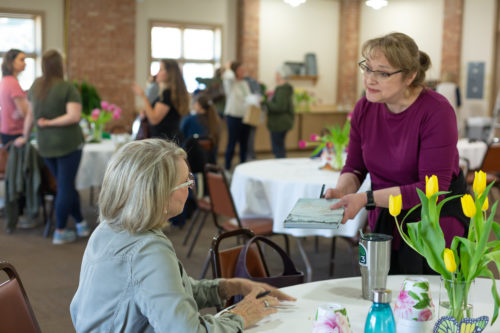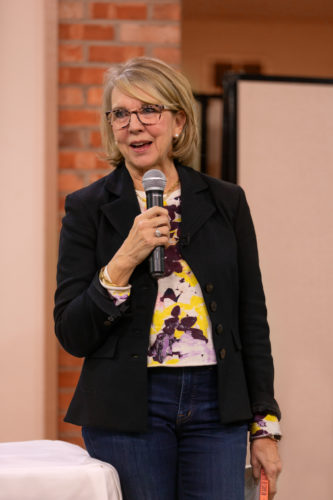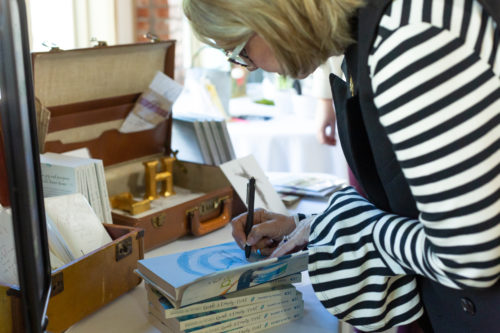 Soon after the retreat Dennis and I enjoyed lunch with Eugen and Nicoleta, a dear couple from Romania who are in the states for a month. Eugen is a pastor and together they lead marriage retreats and seminars in Romania using the Art of Marriage video series. They are making a HUGE difference in their country.
This visit was a highlight for us. We always love hearing what God is doing around the world with the content we helped create! But there's more …
In addition to their marriage ministry, Eugen and Nicoleta now have an important ministry to refugees from Ukraine. Living near the border they've seen a steady influx of refugees fleeing the bombing. Their church now houses over 100 families, mostly women and children. They are providing activities for the children, including art therapy and singing, to help them try to process the enormous losses. One little boy drew a picture of a house with a front door and windows but with tears falling from the bottom of the house. It's more sad than any of us can imagine here in our still safe and secure country.
Here is a photo we took after we had lunch.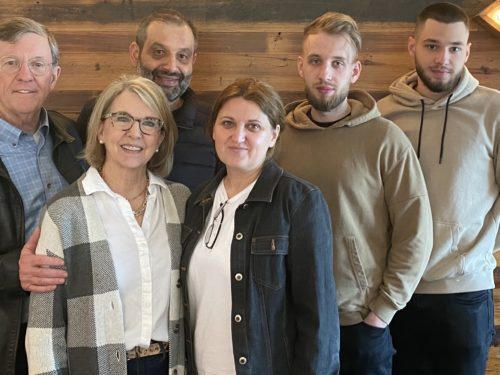 Eugen, Nicoleta and their two sons
My seminary class is nearly complete. I have one more big assignment on the doctrine of Last Times, which should be interesting. I'll then have a final exam in early May. I've enjoyed the class a lot but I will also be grateful for a summer break. I've signed up for "The Story of Scripture" for next fall and I'm already looking forward to it!
I'm continuing to invest time in making needed upgrades to the old farmhouse that now belongs to my two brothers and me. Two weeks ago I had a painter working at the farm and he called me as I drove to a meeting to tell me we had a leak in the roof. So we scrambled and found a roofing company close enough to come look and give us an estimate. Then we called the insurance company for an inspection to see if any of it might be covered. Within 10 days we had a new roof. Just in time for a series of big storms that blew through the week before Easter. Thankfully no new hail damage this time though many others in our state suffered lots of hail damage.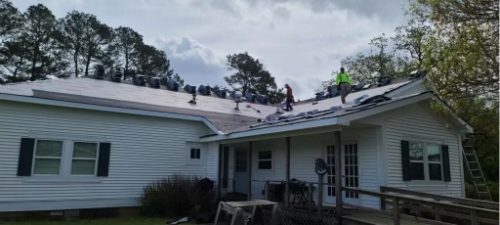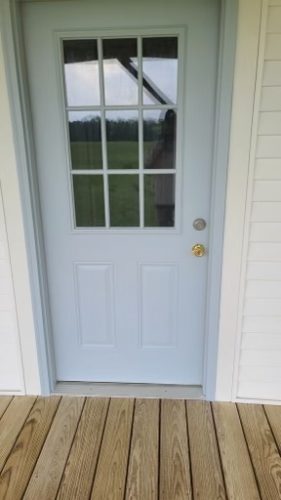 Photo of my new blue door at the farmhouse
I was a teenager when The Sound of Music hit theaters. I loved everything about the movie—the history, the improbable love story, the adorable children who seemed to love each other, and good triumphing over evil. All the right ingredients.
The movie made famous the song "My Favorite Things," which I can recite to this day. While I do like some of the items in the song, here are a few of my favorite things which might make fun Mother's Day gifts for your mom, your daughters, your sisters, or anyone else … including yourself!
My friend Sara introduced me to these kitchen towels. As soon as I saw them I knew I wanted to try them as napkins. I'm not fond of paper products at our house even though paper is easier; I hate the waste. I love these as napkins and I've already bought some for Mother's Day gifts this year. Can't say who they're for!
Another favorite is a small item called Book Darts. Also on Amazon. I love these little metal, arrow-shaped tabs for marking portions of books I love and want to return to. I've gifted lots of these too.
And third is a set of my favorite blank note cards. We created these about five years ago using a painting I did of three pears. We ran out and just recently reprinted them in a larger size and packaged them in sets of eight. I've loved them for thank you notes and other communication, because who doesn't love getting a real hand-written note in the mail? It's such a rarity. A gift in itself.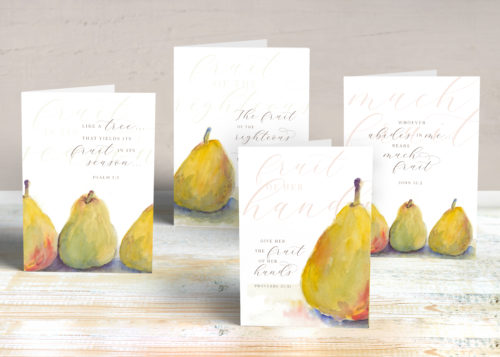 Thanks to all of you who read to the end! Though I tried to be brief it just wasn't possible. And I'm afraid next month won't be short, either, with graduations and a wedding to share!
Love to all.
Ever His,
Barbara