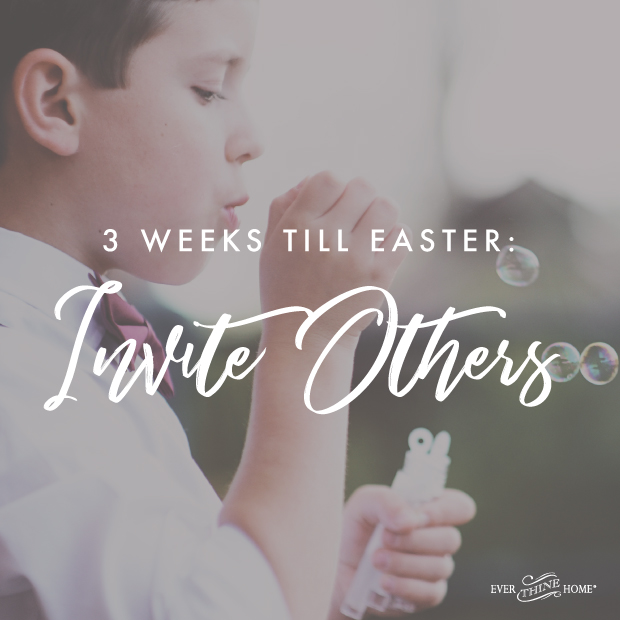 Around the world monumental events are rarely celebrated alone. Weddings, birthdays, graduations are grand occasions shared with family and friends. Easter should be the same and more! Use our FREE printable Easter invitation to invite extended family, friends, or neighbors to join you or partner with a friend who has more space to plan, prepare, and share a feast to be remembered!
Once you have all the RSVPs, plan to create a grand tablescape for Easter lunch or early dinner feasting in a gold and white color scheme. Gold reminds us of our victorious King and white represents the purity of His perfect life and the purity that will be ours one day. Your décor doesn't have to be expensive. Set the DIY candles on blocks of wood to create varying heights. Fill mason jars with white roses, hydrangeas, or even baby's breath. If the weather is glorious, eat outside with gold-rimmed paper plates, gold plastic silverware, paper cups. We even found gold striped paper straws for our photo shoot. A backyard picnic setup gives the kids space to play when the feasting is over.
Sure you'll serve delicious food, but don't make that the focus. Recount the story of the Resurrection during your Easter feast. Set the table with our Easter Placemats and read the miraculous stories on our Easter napkins. The short stories are written for 10 years to adult, but younger children can listen quietly to the stunning wonders that God performed the first Easter.
So print the invitation, make your guest list, and get to planning. Resurrection Sunday will be a thrill celebrated with those you love.