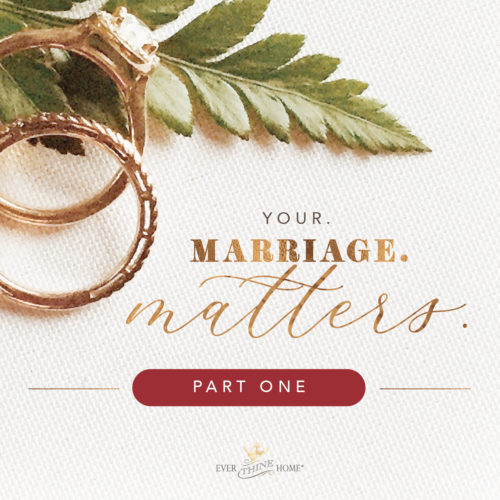 I was standing alone in our small master closet … stunned … unable to move. Feeling lost and alone and burdened, as if an old heavy wool coat had just been thrown on my shoulders. The weight of the heated words my husband and I had just exchanged felt impossible to bear. I wondered if a solution was even possible in our marriage.
It wasn't the first time our marriage felt too hard. Nor would it be the last.
In the hard moments of marriage, quitting seems to be the easiest and best way to alleviate the immediate pain and disappointment. And that day in the closet I had thoughts of quitting, too.
Today more and more couples choose to live together without marriage, without the lasting historically binding promises couples have made for thousands of years. One of the primary reasons so many couples avoid marriage is they want to avoid the pain of divorce … if you don't make the commitment, they think, it's easier to bail when your relationship begins to sour.
Our need for immediate peace, satisfaction, happiness, and fulfillment in the present too often trumps the long-term benefits of a lasting marriage. Many are asking: Does marriage matter at all? And too often it's answered: no.
But I want to shout loudly and clearly to all who will hear:
Your. Marriage. Matters!
Believe it. Marriage does matter, it always has and here in this post is reason number one.
1. From the beginning, God created marriage not only to give you the human love and companionship you long for and desire, but also an eternal relationship with God Himself. These dual purposes are the great vision of marriage.
For thousands of years, couples have entered marriage with high hopes, certain that their love is the greatest to ever exist on the planet. Universally every single couple awakes one day to a disappointment, a rift, an offense they never expected to encounter. In their bewilderment and surprise each partner automatically moves to a defensive posture because we have forgotten, or never knew, two important truths:
Both spouses are sinners—prone to selfishness, to mistakes, and to seeking our own welfare over the other.
We've lost any vision for the good God intended when He created marriage—the healing, restoration, and even resurrection He wants to accomplish in each of our lives. And He can't do that if we are insisting our own way is right, if we aren't teachable or willing to learn. 
We have lost our way in marriage because we have lost our sight, our vision of what God intended.
Of all the art museums in the world, the Louvre in Paris may be the most famous. Imagine the Louvre has a wing dedicated to displaying the wonders and miracles of God's work in marriages. Now imagine you and your spouse purchase tickets, but on the day before your tour an earthquake shakes the famous building and its priceless contents.
An earthquake whose epicenter was beneath the famed buildings would undoubtedly damage or destroy at least half of the works of art. But unexpectedly the museum opens even as the cleanup began. You and your spouse arrive at the entrance, present your tickets, and begin to walk the halls once filled with priceless beauty. But all you can see is the destruction, the loss. Lying on the floor, broken and torn and crushed, you find the debris of our world … broken, separated, divorced marriages.
And yet there are still marriage portraits on the wall to be admired. There are still evidences of God's miraculous power to heal and restore in the faces of couples who refused to quit. As you continue your tour, what will you look at? The destruction or the works of art that survived? Will you focus on the vision of victory of those works of art that endured?
This is the challenge of those who long for love in this generation. Where will you look? Will you succumb to hopelessness because of all the fallen marriages around you? Or will you choose to turn your eyes to the original design?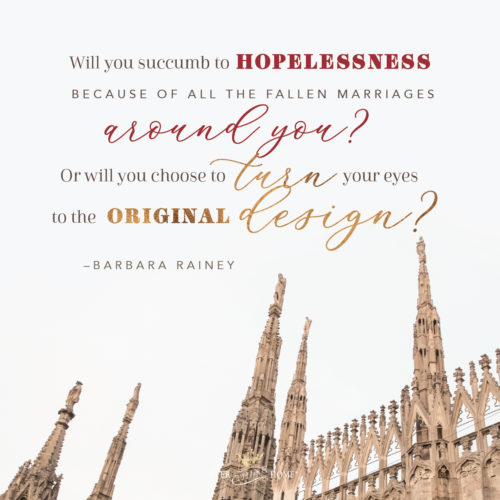 What is God's design for marriage?
To complete one another … which is a picture of Christ completing us, giving us what we are lacking in ourselves.
To fulfill the promises to never leave or forsake one another … which mirrors the promise of Christ to never leave or forsake us.
To fulfill our need for love and intimacy and companionship, again a picture of what Christ came to do by giving Himself to us without reservations that we might know His immense love.
To give us courage to keep growing and becoming all God intended … which is what the Holy Spirit does for us as He dwells inside believers and wants to help us, as His name, the Helper, implies.
To multiply a godly heritage. In the Garden of Eden God instructed Adam and Eve to have children so the message of His love for the world would spread. Marriage is the best environment for raising godly children who will carry His love to their generation.
And most importantly, marriage is to model the great mystery of Christ's relationship the church. When people see marriages that work, they get a glimpse of God Himself, His unity, His enduring love, His unending promises to be with us forever.
Why does God's design matter? Because the Bible begins with a marriage, Adam and Eve, and ends with a marriage, Christ and His Bride the church in Revelation. Marriage is supremely important to God. One day we who know Christ and belong to Him will become the Bride of Christ, married to Jesus forever!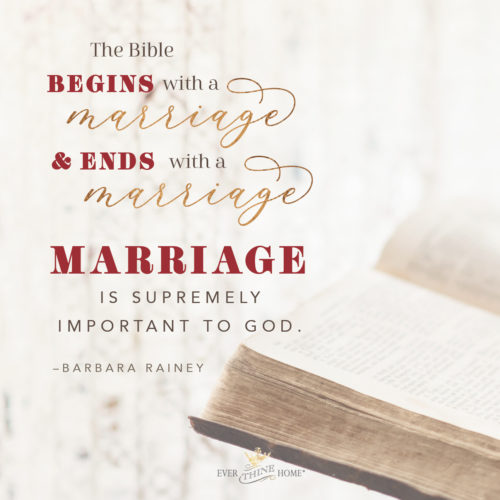 Do you see a pattern here?
All the purposes of God for your marriage are intended to be a reflection of His relationship with us individually. Our marriages show people—and believe me they are watching you more than you know—what it might be like to know God and to belong to Him forever. Your marriage is intended to be a witness.
Watch for part two in this series later this week.
If you enjoyed this post, be sure to check out some additional writing by Barbara on marriage: