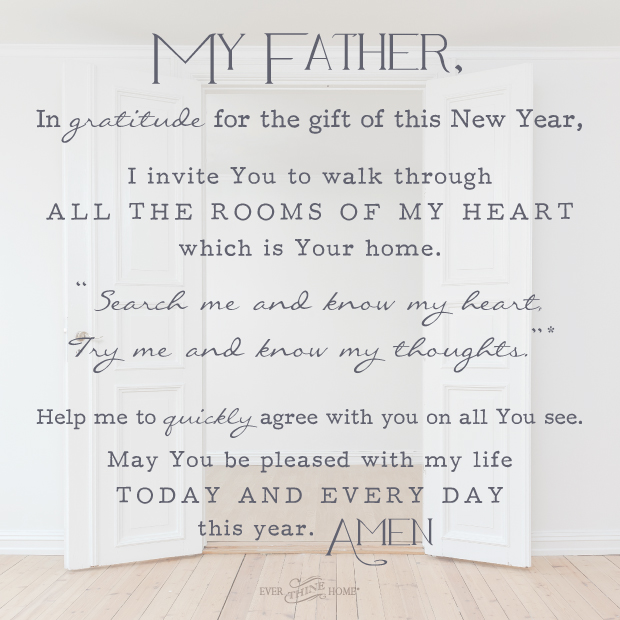 I know the outside isn't as important as the inside. But I still whirl about my home like a little tornado trying to fluff everything just right before we welcome guests like we did a few weeks ago for a Christmas party. I love making my home beautiful and welcoming.
But there is never enough time to do it all. So at the last minute, I grab the random piles, the mail, my purse, my husband's backpack, his piles, leftover glitter or glue or my framing gun from my latest project, whisk them off the island to hide in my laundry room/office. Large items I don't know what to do with go in the garage, turned playroom, turned storage space now that the kids and the ping-pong table are gone.
The hidden debris in those two rooms are too much like my heart. No one need know what's in there when the doors are shut tight and the outside tidied.
Many years ago as a new believer in Christ I was given a tiny book, My Heart Christ's Home, which describes what it's like for Jesus to come into our hearts, entering its various rooms.
Walk with me through the rooms of my house. Try to think about your own heart as we go. What rooms need to be cleaned for Him? Learning more about prayer always starts with purifying our hearts.
The entryway of my house is a small space, but it's important nonetheless. It's the first taste, the first experience of welcome for anyone who crosses my threshold.
When my kids and grandkids come, I throw the door open wide. Dennis and I run outside to greet them with hugs, kisses, and exclamations of delight. Guests who are friends don't receive such an exuberant welcome but are still greeted warmly and eagerly. Strangers, however, receive a wary reception… if the door is opened at all.
What kind of welcome has Jesus received in the entryway of your heart?  Is He more like family or is He only a guest you don't feel comfortable with yet? Maybe Jesus is still a stranger to you, standing outside your door, knocking to see if you will invite Him in.
It takes courage to turn the handle, to say to His face, "I don't love God with all my heart, soul, strength, and mind. I don't love my neighbor as myself. I am guilty, and I need forgiveness and pardon.* Will You come in and make me whole?"
It is that admission though that frees Jesus to enter our hearts and make His home within.  And it is also that same heart attitude that keeps your relationship with Him alive and vibrant forever. "Search me and know my heart," is a prayer we need to pray regularly.
Just inside our front door are three rooms with a very open floor plan.  This is where we do most of our living and Jesus wants to share life with us in these spaces. We gather with friends, watch television or movies, share meals with family and friends, and have private conversations just the two of us about so many things.
Would He approve of what our eyes behold? Would Jesus wince at the way we talk about other people? What guilt or anxiety is swept under the rug?  Is there fear of the future spilling down the stairway?  
And then there is pride of all sizes, shapes and colors that resides in every heart's home. How often do we check to see if it crept back in when we left the door open or weren't paying attention? Is it in subjection to Jesus?
In the early days of His indwelling, we eagerly sit with Jesus in the kitchen of our souls. We listen to His words and talk with Him about our many questions. But for most of us who have lived long with His presence, our hunger for that time around the table with Him wanes.  Over time we rush by with only a word or two, complain about all that is wrong, and even demand He fix things.
There is nothing wrong with asking Jesus to repair all that is broken, but too often we forget He is a person who wants a relationship with us. And that requires a two-way conversation.
It's easy to  forget God sees all that is in our hearts. He knows if pride is ruling.
It's also easy to think God is silent. He is not. In the Garden of Eden, Adam and Eve walked and talked with God. And they heard the sound of Him walking just as we can hear our family members steps. A real relationship with Jesus today means He wants access to every room, every corner of our lives.  Is He reigning in your heart?
Every home has bedrooms, small spaces, closets and corners that guests never see.
Does Jesus have access to those rooms of your heart? Is there dirt from sin that you haven't bothered to clean out? Are there secrets hiding in boxes on the very top shelf? Are there shameful images He would see if He scrolled through your laptop or phone?  Would you want to hide if He scanned all the books on your shelves to see what you'd been reading?
Or would He smile, and say, "I like what you've been giving your time to in these spaces of your life. I am pleased to be in your heart. I feel welcome here"?
Jesus said in John 8:29, "I always do the things that are pleasing to Him." That has become my goal in my home and my heart this year. Is it yours?
As we start this New Year we want to join you for a healthy look within. May you give Jesus greater access to all the rooms of your heart. It is the starting place for a living prayer relationship with Jesus your King.
*1. Hidden Christmas, Tim Keller, page 60
*2.  Psalm 139:23