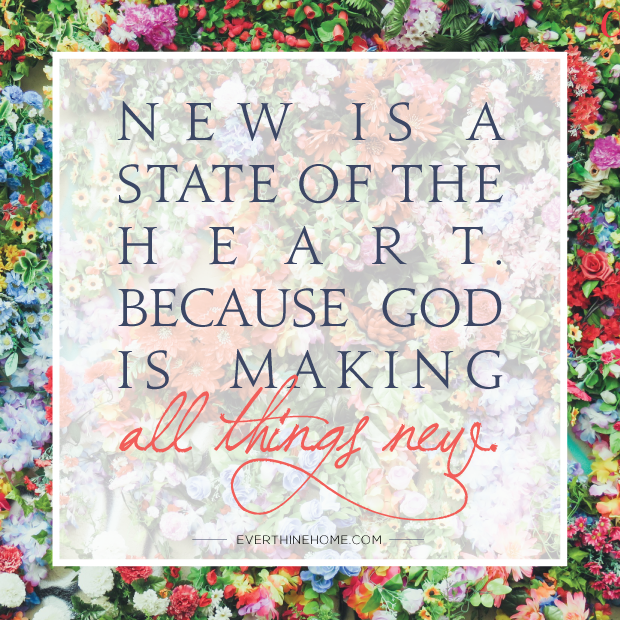 Guest post by Tracy Lane
New doesn't mean perfect. New doesn't mean tidy. New doesn't even always mean new. Have you ever bought a used car that was new to you? What about moving into that coveted "new" home that's rich with character from the years it's seen before you ever laid eyes on it.
And as good as new sounds, it isn't always comfortable. New doesn't mean that the old is zipped neatly away so that something better can replace it. New often means rebirth, relearning, reshaping in the middle of the same old hard things.
Because for us, as flesh, we are constantly withering away. We are "like grass" and "the grass withers and the flowers fall" (1 Peter 2:24).
So how can we find newness in the middle of wilting petals and tired leaves that look like gray hairs sneaking in and baggy morning eyes unconcealed? Can there be newness in the rut of breakfast bowl bickering and a sick child's syringes?
YES!
New is a state of the heart. Because God is making all things new. And even though it's sometimes hard to see what little newness ebbs in inch by painful inch, we can hang on while He whittles away at our hearts. While He wrestles with our children. While He holds us close in our suffering yet leaves lingering questions unanswered.
Because new looks like His mercies that are fresh sunrise by sweet sunrise, day by 'nother day, moment by messy moment.  "The steadfast love of the Lord never ceases; his mercies never come to an end; they are new every morning; great is your faithfulness." -Lamentations 3:22-23
That same old faithfulness is something to never grow tired of as He lovingly makes each of us new.