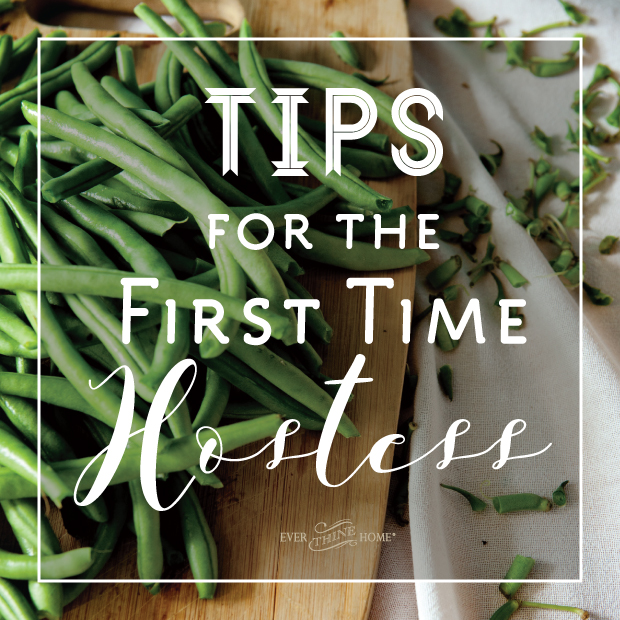 Dear Barbara,
How do I host Thanksgiving? It's finally my turn, and I don't even know where to start.
I remember the first time in the early years of our marriage when we lived too far from home to share Thanksgiving with my family or my husband's, and it fell to me to prepare a Thanksgiving meal if we were to have one at all. I was a bit nervous but also excited to give it a try. Then the question became who would we invite to join us and how many could fit in our very average-sized, average-decorated, average-messy home.
My brain immediately began to imagine everything I could decorate (I always tend to overdo here because I love making things beautiful), and everything yummy to eat. I wanted festive, meaningful, cozy, and well…perfect.
The more I planned, the more overwhelmed I became. I knew my kids were real kids: there was no way they'd all sit quietly, chewing with mouths closed, writing or coloring on the gratitude lists I intended to make for each person. I knew my kitchen was a real kitchen: the oven cooked unevenly, I didn't own a turkey roaster, and my eight place settings of dishes I'd gotten as wedding gifts were now all chipped and cracked.
How was I ever going to host that decorated, delicious, festive, meaningful, cozy meal then…since I knew it wouldn't or couldn't ever be perfect?  I didn't. And you won't either.
Instead of setting out to host the flawless, Pinterest-perfect get together. Just set out to get together.
Simply open your home. Open your heart. Open your oven and your cupboard. Open your kitchen table, dining room table, and even the pop-up rickety card table. Pull a few extra stools and lawn chairs around it.  Then welcome your people in.
Hosting is really not about having it together. It's more about having people together. The purpose is not to be noted as such a great hostess. The purpose is to bring people together who you care about and who need to be included.
Here's a list of Thanksgiving meal objectives to recenter your focus and help you love your guests well:
1. Make people to feel welcome. Extend the invitation. I'm sure your sister knows she's invited, but what about your elderly neighbor? What about the coworker who mentioned he doesn't have the funds to travel home this year? What about your child's classmate who will be with his dad this year and whose mom doesn't have family close by?
Make your home an open place to celebrate the holiday with those you love and those who need a seat around a table. A simple text, phone call, or face to face invite is all it takes to let people know you'll have the turkey ready to eat when they arrive!
2. Make people to feel comfortable. Ask your guests to bring a dish. Even better if they have to finish chopping around your kitchen island and use a plastic serving scoop. Ask the cook why this is the chosen dish. Listen for the story behind the recipes and traditions.
Remember that not everyone has the same norm, so have a few holiday festivities to choose from. Turn the football game on in the living room, have a kid-friendly space in the playroom, and set up some group games for after-dinner fun. Oh, and light some candles. Nothing says special like the warm glow of flickering candle light, even if you eat your meal on paper plates with the afternoon sun shining in your windows.
3. Encourage people to share their hearts while you share your food. Initiate conversation around the table. You've already started it by asking about everyone's dish. Now take it deeper. An easy way to do this is to have a question at each person's seat. Untie Your Story is a set of napkin ties I made exactly for this! There's still time for a set to arrive before the big day.
For another easy, gratitude-focused conversation starter, check out our longtime family tradition using popcorn kernels and thankful cards on my recent post. How you get your family and friends talking is up to you, but the effort will be worth it once everyone is sharing.
Once you've assigned the side dishes and desserts to those you've invited, hopefully some of the pressure of hosting will ease! And if cooking a turkey scares you to death and you don't have anyone to help you do it, go buy roasted chickens at your local market! There's hardly any taste difference and no one will care. Promise.
Now it's time to focus on the MEANING of the gathering because once you understand how important this is to our God then you will enjoy the day more even if it's crazy. And you'll be more alert to the Spirit of God moving in your home among the hearts of all who came.
Gathering is His idea after all, you know. The word gather is used over 130 times throughout the Old and New Testaments, which means it's not an inconsequential concept.  The most common use is in reference to God gathering us, His people.
Deuteronomy 30:3 says, "God will gather you again from all the peoples…" and in Matthew 18:20 Jesus said, "Where two or three are gathered in my name, there I am among them."
Gathering together mirrors God's familial relationship with His Son and with us, His children. It is therefore a very biblical practice.  If gathering is something God does and we are to imitate Him then I want to bring my people together and make it meaningful for my King.  
And since it's your first time to host this wonderful event, here's a little extra help: a tentative menu that I keep scrawled in the back of an old cookbook plus a few recipes of family favorites!
Turkey

Ham

Green bean casserole

 Cornbread Dressing (maybe you call it stuffing?):  

This is my grandmother Zelma's recipe. I am now the official dressing maker for the family.

Mashed potatoes

Cheese Grits (

I make cheese grits every single Thanksgiving without fail. Everyone in my family loves them. I always make at least 2 batches.)

Corn

Sweet potatoes

Raisin Pie (

The raisin pie was Dennis's mom's recipe. I made it every year for my Scandinavian dad who loved it. I still make it in honor of him even though only two of us are left who like it.)