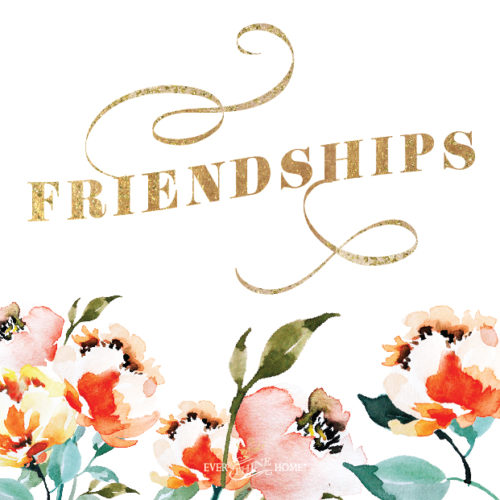 Friendships
Enable me to live
so as to deserve a friend
and if I never have one on earth
be Thou my friend,
for in having Thee
I shall have all that is dear
and valuable in friendship.
Amen.
We had dinner with sweet friends the other night. Friendship came up as she shared how full her life is and how easily she says yes to friends, explaining her love for helping and doing life with her people. This young woman is very like my Laura who drove three hours one weekend recently to stay with a friend who just had her first baby. These two are devoted friends. Both of them possess a capacity, a loyalty, a genuine love for the women God has woven into their lives. I so admire and respect them because I am not like them; I am wired differently.
When life gets full and overbooked for me, friendships move to the edge of the radar screen as I focus on managing the work, the tasks, and my first relationships: marriage and our family. I've learned that though I love many people I can't juggle many relationships at once.
Belonging to one another is a gift of God for it is in relationship, friendship, community, and family that we see more of who God is, an intensely relational being.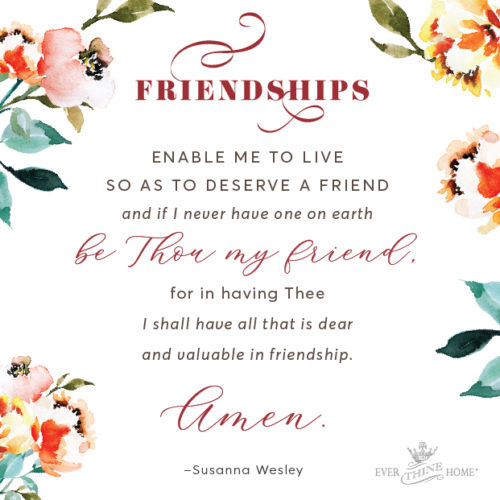 Where are you on the friendship scale? Are you on the too many friends extreme or on the too alone and isolated extreme?
The above prayer by Susanna Wesley, pastor's wife and mother to … wait for it … 19 children … amazing woman … reminds us no matter where we are on the friendship spectrum, Jesus is our source, our model, our teacher in friendship for He is our Friend.
Deep friendships aren't always possible. I have experienced multiple friendless seasons in life, though I was always surrounded by people, acquaintances, women I considered friends. There were years when the daily work of caring for little ones left me with barely enough energy to keep my eyes open in the five minutes that I had to sit down. 
There were years, too, when the trials of teens and a rebellious child took every ounce of relational energy, when the hurt felt so deep and personal and exhausting, I had nothing left for any other relationship outside my marriage and even that relationship suffered. 
Yet even in those lonely seasons when I had no emotional energy to even meet a friend for coffee, there were those who stood with my husband and me in prayer. And that is a true friendship even though we didn't have "time" together.  
As school begins again there will be fresh opportunities to interact with other adults; the parents of your children's friends. Some will be new to you as your kids discover new friends this year. Others will be parents you've not seen since last spring. 
What is God thinking as He sovereignly places your child in a different friend group, as you and two other moms sign up to go on field trips or to be homeroom moms, as you choose seats in the stadium for football or soccer games? Do you believe He is in control?
Perhaps none of the women in these places will become a friend to you. However, many parents in your kids' schools are watching you and your family. Some need to see parents who are for their child but also for the others too. They need to see parents who model respect for authority and who demonstrate healthy marriage and family relationships. Undoubtedly some need to meet Jesus and God wants you to be a person who can be trusted, who demonstrates His love.
Another mom you meet dropping your kids off at school may not become your bff. There are lots of levels of friendship. And over time many come and go. Very few girlfriends, I have learned, will last a lifetime.
What we long for in friendships, in another person who feels as comfortable as home, can only be found in the One who promised never to leave or turn away. He's the One who, for ages upon ages, has been called Friend, Wonderful Counselor, Prince of Peace.
No matter where you go or how lonely your circumstances–even if you should suffer beyond what you can speak–a companion is near. He is Emmanuel, God with us: "Surely I am with you always, to the very end of the age" (Matthew 28:20). He is Jesus.
May you not measure friendship by numbers or by hours but by the steadfastness of the Rock of Ages and then share that friendship with others as you can trust God to use you to show glimpses of Himself to those watching you. And I promise others are watching. Let them see Jesus!
*Taken from The Prayers of Susanna Wesley by W.L. Doughty Copyright 1984 by Zondervan. Used by permission of Zondervan. www.zondervan.com, 3.