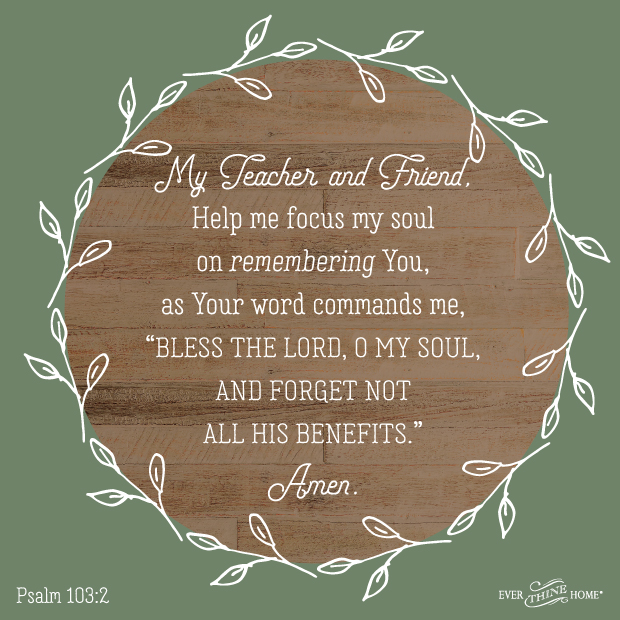 It seems like we're always forgetting…where we put our keys, what time that appointment was, what tonight's dinner menu is supposed to be. It's so easy to forget because as women we're always rushing onward, trudging our families forward in our trajectory of life.
I think we're forgetting something much more serious than our purses and our kids' backpacks though. In our frenzy, we are forgetting to remember what God has done in the past. We are forgetting to recognize what He is doing in the here and now. And when we forget those things, we forget that we can trust Him for tomorrow's uncertainties.
Let's resolve to not forget this year. And to actually follow through, let's resolve to daily record God's faithfulness to us. So that when we need…
-in the moment awareness of God's working,
-assurance for a scary, unwanted tomorrow,
-reminder of a long-kept promise through the ages
…we know right where to find it.
We know we've been the ones experiencing and reporting it, little by little, to remember for ourselves and to remember for the generations to come.
Here's a daily Forget Not journal to keep on your nightstand. At the close of each day, jot down one phrase, a couple words max, about where you saw God that day. As you fill up your monthly lists you'll be training your heart in the practice of remembering. And you'll be training your trust in a God whose "faithfulness continues through all generations" (Psalm 100:5).
And here's a prayer to help your remember to not forget: "God, refocus my soul on remembering you. As I remember your works of old and recognize your faithfulness today, help me choose to praise you for what you've done and thank you in advance for what you will do."