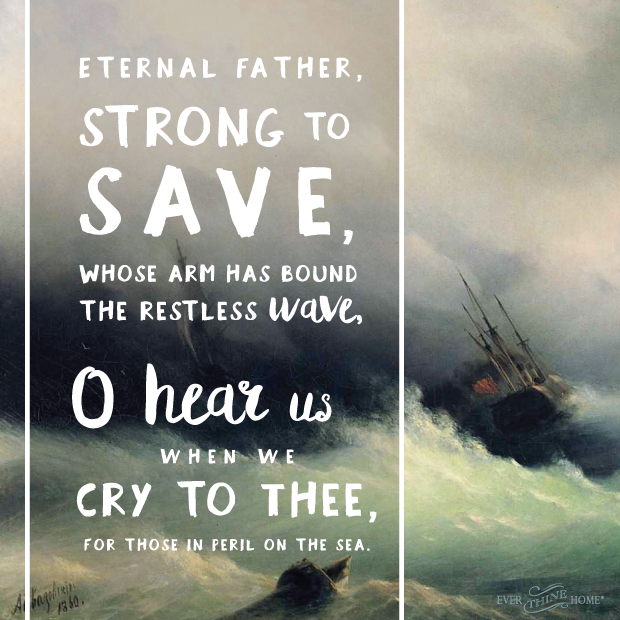 When our son was diagnosed with a neuro muscular disease we journeyed through months of fear, disappointment and loss.  My heart was broken for him and us. I cried like never before.
When our daughter was living with friends we felt were a bad influence my husband and I imagined the worst and prayed for deliverance.  Keeping fears and thoughts of failures at bay was not easy.
When our granddaughter died it seemed life would never be happy again. How could it be when my 27-year-old baby girl was enduring a suffering I couldn't imagine.
In all of these and more I remember feeling like I might not survive. It was all too much. I could see no way forward.
Have you felt that?
Drowning has always been a fear of mine because asthma has been my lifelong companion. Just the thought of not being able to breathe makes my heart race.  Watching my children suffer has felt like drowning, the weight of what they were facing felt like crushing waves.
"O hear us when we cry to Thee, for those in peril on the sea," is a heart prayer whether the storm of life is on land or sea. Another old hymn, "I need Thee, O I need Thee, Every hour I need Thee," is also one I've prayed over and over countless times.
God is with me, He has promised. How grateful I am to know that promise.
Reading and knowing God's words to me keeps me grounded in turbulent times, and so do powerful lyrics.  Another couplet from this hymn tells of His sovereign power and control: "Who bids the mighty ocean deep, its own appointed limits keep." God explained His power to Job in a long list of questions and proofs, one of which was about the oceans: "Thus far shall you come, and no farther, and here shall your proud waves be stayed" (38:11).
Boom! Done. Apart from other sovereign acts of God the waves have kept their limits since God gave the order.
That knowledge is a comfort.
Poetry may still be outdated but its rhythms and rhymes lodge themselves in my memory and sometimes God's Spirit brings those lyrics and tunes to my mind to remind me of what is true about Him. Such are the words of this poem set to music in 1860.
If it's not sounding familiar to you, you might remember it from The Perfect Storm movie soundtrack.  It is also the US Navy hymn, was the favorite of President Franklin Roosevelt and was played as the body of President Kennedy was carried to the rotunda of the Capitol building.
Today, my children and I have survived what felt like a drowning, and as God has promised, He has worked all of these storms for good in all our lives. More storms are sure to come and He will again be faithful.
May you believe God's words in your storms and hang on tight to Him who is always with you!