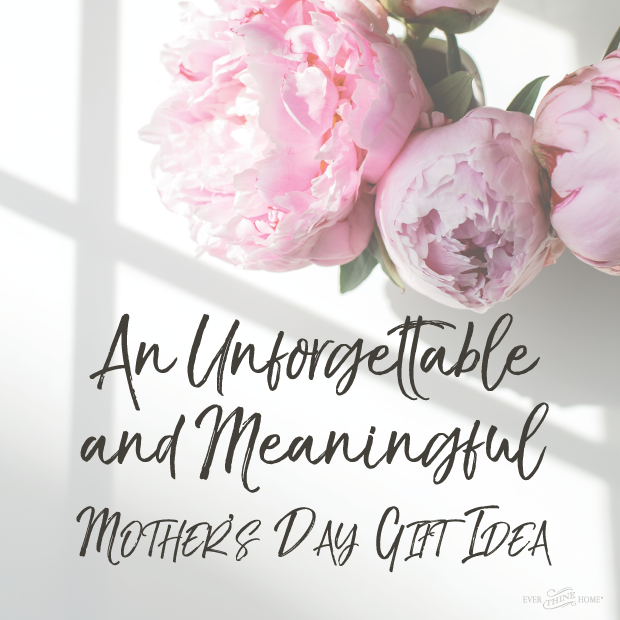 There is a secret to a longer life. But the caveat is you can't think about yourself this Mother's Day season. 
Bathing suits, shorts, sleeveless shirts; all so cute on our once-upon-a-time bodies, start to feel too revealing of veiny or not-so-taut legs and arms by 40 if not sooner. Where's that elusive Fountain of Youth? Every generation has their vitamin regimen, pink drink, beauty potions, and magic elixir guaranteed to prolong youth and length of days. How do we find the right one?
A promise more lasting than beautiful skin is found in the Bible. 
Mother's Day was created to think about and honor the women who gave us physical and/or spiritual life. It is the day to think about your mom. Your words of honor for her will mean far more than any you spoke as a child because you both know she wasn't perfect. On this day focus, as Philippians says, on those things that are good and right and true.
So, in short, don't be thinking about yourself except to discover the reward waiting for you in this beautiful, life giving promise.
The fifth of the Ten Commandments instructs us to, "Honor your father and your mother…." And it's followed by that fountain of youth promise, that your days may be long in the land that the LORD your God is giving you" (Exodus 20:12).
God promises to us in His Word that if we honor our father and mother then our days will be long.
This command—full of hope and promise—may be one of the most profound in Scripture. There are unforeseen benefits linked to your obedience to this command:
Could it be that you will forge a deeper, more meaningful relationship with your mother by honoring her?

Could it be that your mother is just as desperate as you are to receive approval and affirmation?

Could it be that the quality of life you experience today is directly tied to your obedience to this command?

Could it be that God will be honored and pleased when you honor your mother?

Could it be that a part of your longing and quest to become an adult is connected with honoring your mother?

Could it be that obeying this commandment is an important test of your relationship with God?
There is one especially powerful way to honor your mom this Mother's Day—by writing a tribute. Instead of a sentimental card with a poem written by someone else, take the time to write a thoughtful, well-worded letter or story of gratitude and honor for her formative role in your life.
Your mother needs a tangible demonstration of your love now. Why wait until after she dies to express how you feel? Especially if you're a mother, you know what a thankless and relentless job mothering can be.
Of course she didn't do everything right, maybe she didn't do much right. But the commandment in Exodus 20:12 stands with no exceptions for poor parenting. Make a list of what you know was good, beginning with choosing to give you life.
It's time to thank your mother. Here are some helps for writing a tribute to your mom.
Prepare your heart.

Pray that God will help you remember all the good memories, traditions, lessons, and more from your childhood.

Don't get caught up in old hurts.

If you can't get past all the hard times, the things you missed, then give those to God and ask Him to help you forgive and believe He intends to use them for good, if not now then in time.

Create a list of memories.

Write down the good memories you have about your childhood—events, happy occasions, interesting experiences with your family, things your parents taught you, and more. You will be surprised how, once you start, little things will spark memories.

What was your favorite gift from your mom?

What life skills did she teach you?

What memorable conversations do you remember having with her that were significant in your life?

Did she play with you on vacations, read stories at night, pray for you, help you make decisions that mattered, teach you to cook or wash clothes or plant a garden? 

What holiday traditions did you observe that she kept alive in your family?

Organize your lists.

You may end up with dozens of items on your memory list. Go through the list and select the memories you feel are most important to include in the tribute. Choose the memories that are the most meaningful and vividly emotional to you.

Write it.

Don't worry about being fancy here—just tell the story as if you are talking to a friend about her or even better in letter form to her directly.

You might focus on a few character traits your mom has. For example, strong work ethic: "Thank you for enjoying your career but always enjoying me the most. I now see how hard that balance can be." Or focus on a specific set of chronological memories. "I remember stirring the chocolate chips into the bowl while I was little. Thanks for wanting me there beside you and for teaching me how to cook." In short, summarize the impact your mom has had on you and recognize her for that by telling the stories of your life together.

Present the tribute

. Decide if you want to add any photographs, artwork, or other mementos to your written words and plan accordingly.  Once you have your final document, have it framed to set it apart as a special keepsake. Give it as a gift for Mother's Day.  Consider reading it out loud in person to make it especially meaningful.
It will take some time and effort to get the tribute written. But in comparison with all the time and effort your mom has spent on you, I'd say she deserves it. Give it a try. It'll be a Mother's Day gift she'll never forget.
The tribute writing doesn't have to feel too much or too time consuming. Even a couple paragraphs for a short version will speak volumes to your mother. And if you can't complete it by Mother's Day, keep at it. She would appreciate the gift for a birthday or special anniversary. The length and timing aren't the focus; celebrating your mom is!
To help you know what the end result might look like I invite you to read the one I wrote for both of my parents for Christmas many years ago. My sweet mom is now 91, my father went to heaven four years ago, and the tribute I created for them still hangs in her living room.
May you be inspired to obey the fifth commandment and honor your mom. My tribute changed our relationship, making it so much better. While I once saw many mistakes today I only see the good. The greatest of these is love.
If you'd like help on writing your own tribute, find a downloadable tribute worksheet here.  And check out Dennis's twentieth anniversary edition of his book The Forgotten Commandment.