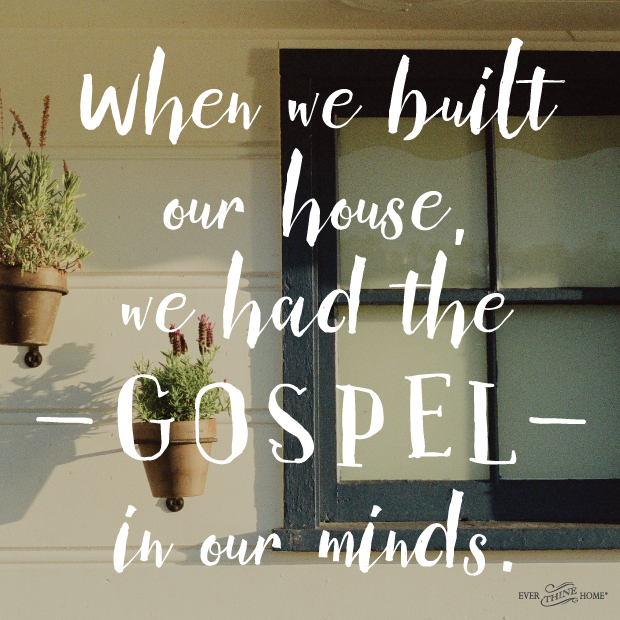 By Sabrina McDonald
Can you build a home to minister to the world for Christ?
That's the question I wanted to answer when my husband and I started constructing our new home. Both of us had previously been widowed, so we decided to start our life together in a new dwelling, where we could combine our lives with old and new. But we wanted more than just a home to raise our kids and grandkids, we wanted a home that was prepared for ministry—small groups and hosting guests, with places to produce works that could provide for the poor and those in need and bring hope to the hopeless.
We named our home "Havilah," a Jewish word which means "writhing in pain" and "to bring forth." Those may sound like opposite meanings, but childbirth is an example of Havilah—something beautiful that comes from intense pain. Havilah was the perfect image of our marriage that was born from the double tragedy of losing both spouses but produced the fruit of God's working in our lives together through the grief.
We started our home at the foundation with the word of God and prayer. When the walls went up, we invited friends and family over to write Scriptures on the floors and door posts. We took the idea from Deuteronomy 6:6-11,  "And these words that I command you today shall be on your heart. You shall teach them diligently to your children, and shall talk of them when you sit in your house, and when you walk by the way and when you lie down, and when you rise … You shall write them on the doorposts or your house and on your gates." We wanted the foundation to reflect God's word from floor to ceiling, and we wanted our children to see the importance of the word and prayer in preparing a home.
When the home was finished and everything was moved in, we had a dedication ceremony. We used olive oil as a symbol of the Holy Spirit, and we anointed the door posts and window sills with the oil and prayed that our home would be a beacon for Christ—a place that would continually glow with the burning oil of the spirit.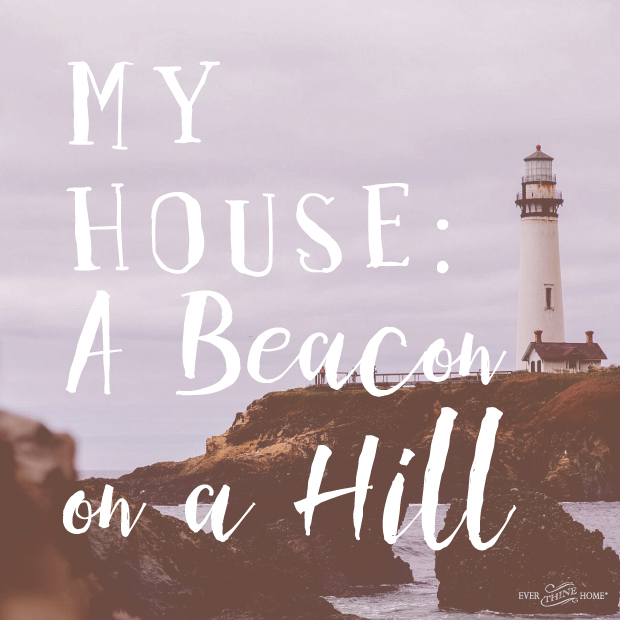 We prayed that it would be a lighthouse that couldn't help but shine the light of Christ. We prayed that all who drove by could feel the presence of God in this place and that this home would be used to spread the gospel and raise up a generation of dedicated believers with a passion for Christ.
During the building process we discovered that a Muslim family owns the property next to us, and they plan to build a house there. Other neighbors are somewhat fearful of the unknown family, but Robbie and I were excited to see what God may bring of our interaction with the followers of Muhammed, so we prayed over them that we would be able to form relationships with them and share the gospel. Who knows if God brought us to this place just so we might reach them with the truth? Like Mordechai said to Esther, "…Who knows whether you have not come to [this place] for such a time as this?" (Esther 4:14).
Our home has a gate that is almost always open, and on the gate are crosses prominently displayed for all to know that this is a place where Christians dwell, where all who enter are welcome in the love of the Lord. As members of the body of Christ, our home is a place where the spirit dwells, and an instrument to meet needs, as Romans 12:13 instructs, "Contribute to the needs of the saints; extend hospitality to strangers."
During our first month in the house, a member of a local church came by to meet us and invite us to join them in worship. The woman said she watched the house go up. "Such a welcoming home," she said. "It looks so warm like anyone can come and visit." And that's exactly what we hoped for!
We've only been in the house for a few months, but I'm already looking for ways to be a light in the neighborhood. I've met many of the neighbors, taking advantage of opportunities like yard sales and neighborhood gatherings.
The house actually makes a great conversation starter with neighbors, and it's easy to lead into a spiritual conversation. When they ask where I live, I explain that we're the new house down the street and that we call it Havilah. Then I can tell them how God brought my husband and me out of the darkness of grief and gave us a new life together. It's a wonderful way to share our testimony.
Most people listen politely, but others have been deeply touched. One woman, as providence would have it, had recently lost a spouse, and she was encouraged with all the hope that we gave her.
There's also a park down the street that is popular with campers. It's directly on the Arkansas River. I plan to take my children through the park and pass out sacks of water and snacks, complete with gospel tracts. The visitors may need something to read while they enjoy the river!
All this is happening directly out of my home. I haven't had to go any further than my own neighborhood to bring hope and truth to people. None of these conversations have been strange or awkward; I'm simply sharing who I am with the people I meet, and my love for Jesus is the biggest part of me! No one has told me that my stories offend them or that I'm not welcome to be their friend. People respect kindness and genuineness, and they have found strength in the message that we've shared.
I've discovered that using your home to share the gospel is not as hard as one might think. All it takes is the willingness to be used by Christ and a little imagination. Here are a few ideas on how you can use your house as a beacon for Christ:
Look around your neighborhood and find the places where people gather—a local park, pool, or university. There is no law against passing out goodie bags, complete with a gospel tract inside. Do people have a place to walk or ride bikes in or around your neighborhood? Pass out water and gospel tracts to passersby. Have your children build a lemonade stand for free lemonade and a gospel tract!
Are there elderly people living near you? Offer to do yard work once a month for free. If they ask you about your motivation, tell them what church you attend and that you believe it's a Christian's job to help people.
Remember to pray for your home and fill it with scriptures. Hang the Word of God on your walls and make notes to your children on chalkboards and refrigerators. Gather your children to pray about how your family can reach the world for Christ right from home.
God will bless you and open doors for you when you are willing to do the work he has called you to do!