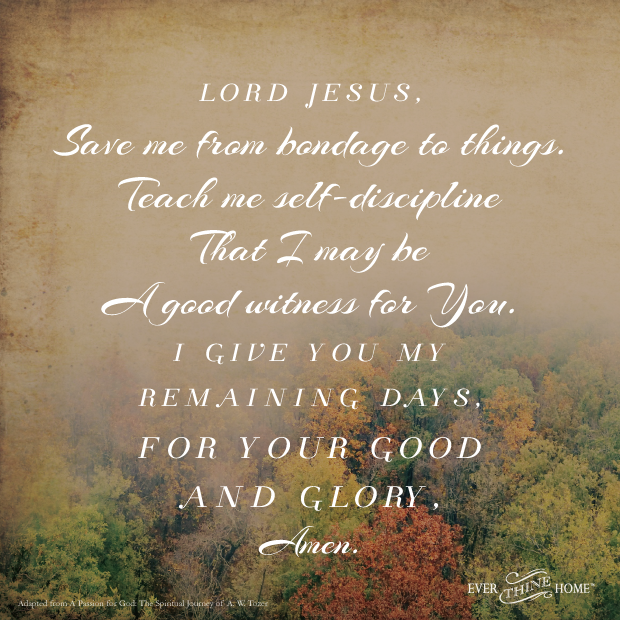 In two days our national frenzied shopping day, black Friday, will dawn, though thousands of shoppers will be finished before the sun peeks over the horizon. Even for those of us who can't imagine standing in lines in the cold and dark, these words are centering, balancing reminders of what matters most in this life for those of us who belong to Jesus.
I have a good friend who along with her sisters and mom and pastor dad enjoy the thrill of finding great bargains without succumbing to the temptation to excess or greed.  They do most of their Christmas shopping on black Friday and enjoy the rest of the month focusing on the celebration of Christ without their lists constantly nagging them.  It's not the day that is the problem but our hearts.
The saints of old were much more mindful than we of living simply, frugally, and unencumbered by excess.  They took seriously the exhortation to lay aside all that entangles in the race set before us. (Heb. 12:1), and the challenge to be like a soldier who also does not get entangled in civilian pursuits, but instead strives to please the one who enlisted him. (2 Tim 2:4)
We who have come to the Babe in the manger for salvation have come not of our own choice but because he called us and gave us a heart to follow.  Therefore we are His possession and we owe Him our all for rescuing us from death and hell.
Therefore as we ready ourselves for the Christmas season that is already upon us, may we walk worthy of His sacrifice.  May we think less of material things and more of Him and His work for us.  May we renew our dedication to His service with our remaining days that we may hear well done from the Father.
I pray this is true for me and for you.  Many are watching, most importantly our Father in heaven!