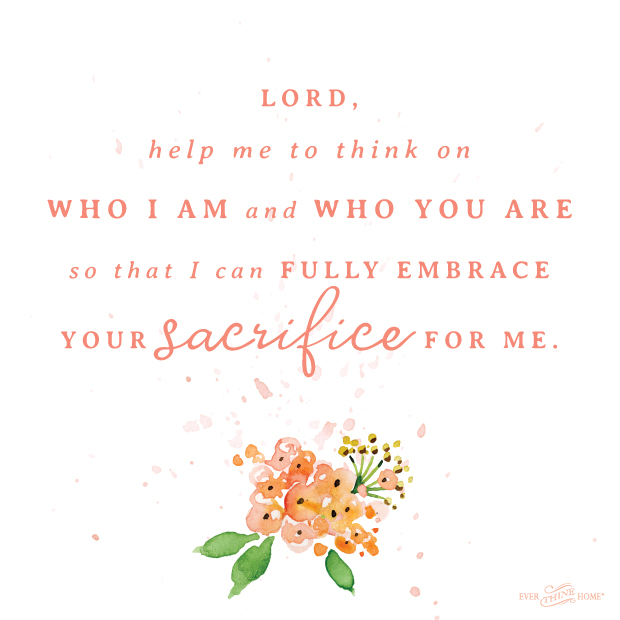 Do you like to listen to your thoughts? I certainly don't. The few times that I've ever let my mind get quiet, my own wonderings and fears and misgivings sound much too loud. All the sudden, I can't even think clearly with the cacophony of my own soul.
But as we look toward Easter, I want to invite you to ponder. I'm learning that it's a little different than being deafened by my own thoughts.
Let your mind get still. Instruct your heart to be quiet. Carve out a space to focus where you're not easily distracted. And then, instead of letting your own thoughts run rampant, tell your thoughts what to think. It's training your mind to consider biblical truth. To think on eternal things.
Ponder the reality of your sin, your personal and regular offenses to a holy God.
Against You, You only, I have sinned And done what is evil in Your sight, So that You are justified when You speak And blameless when You judge. Behold I was brought forth in iniquity. – Psalm 51:4-5
Ponder the love that drove that holy God to send His son as a sacrifice to right your eternal wrongs.
For God so loved the world, that he gave his only Son, that whoever believes in him should not perish but have eternal life.- John 3:16
Ponder the perfect Savior's submission in actually giving up Himself in brutal, criminal crucifixion so that you can access His Father.
But he was pierced for our transgressions; he was crushed for our iniquities; upon him was the chastisement that brought us peace, and with his wounds we are healed. –.  Isaiah 53:5
Ponder the miracle of a 3-day dead body resurrected into fullness of life again.
He is not here, for he has risen, as he said. Come, see the place where he lay. – Matthew 28:6
Consider the enormity of the Easter season, specifically of Resurrection Sunday. When we understand the depth of our sin and the greatness of Christ's forgiveness and eternal offer to us then we can respond in appropriate exuberance and grandness. I pray that pondering will help you and I both respond well this Easter.
Lord, help me to think on who I am and who you are so that I can fully embrace your sacrifice for me.