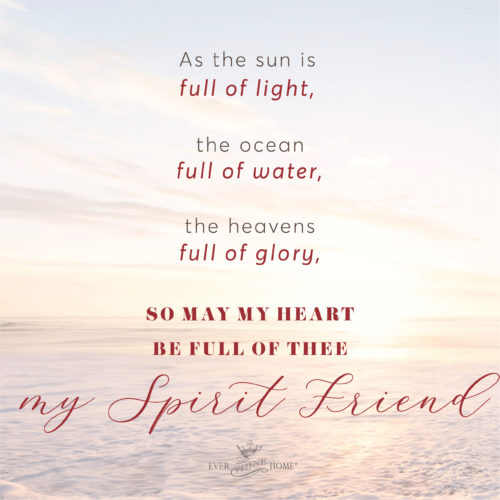 One of my greatest joys in recent years is the discovery that the Holy Spirit, most misunderstood member of the Trinity, is my dearest Friend. It is He who whispers truth to me, like the time I was longing for a more youthful face and I casually prayed, "Lord, what can I do?" Almost immediately He, the Holy Spirit my Friend, whispered to my heart, "Lay up treasure in heaven." Or the email from my friend, Erin, who sent me a portion of a commentary on the book of Ruth. No whispers this time but the realization that several paragraphs were exactly what I needed for a radio series I'm working on for FamilyLife Today. His presence within me enlightened my eyes to "see" the paragraphs that will be most helpful.
Within each of us is that "God-shaped vacuum" said Blaise Pascal. What fills that space is the Holy Spirit of God who mysteriously and miraculously takes up residence within from the moment I believe on Jesus for salvation. That created need for a relationship with the Creator God is met by His Spirit. He is the One who guides, speaks, corrects, teaches, comforts, counsels, and reminds me of everything Jesus said. Which means I must read and take in the words of Jesus, indeed the entire Bible, if I want to hear the Holy Spirit speak.
Do you want to hear the Spirit speak personally to you?
I hope you do. Learning to hear His voice is like learning the ways of a new roommate or marriage or friendship. Recognizing tones, knowledge, meanings, and subtleties take significant time. My husband and I, after over 40 years of marriage, are still honing our ability to "hear" one another. God states, "my ways are higher than your ways," so I must learn the gentle manner of His Spirit's intimate communication to be able to hear what He truly says. The process is long and sometimes arduous for this impatient child of God. Gently God has reminded me of my relationship with My Spirit Friend is the work of a lifetime.
After 47 years as a believer and disciple of Jesus, I'm finally becoming delightfully comfortable with His Spirit. May this be your desire, your goal, your greatest joy all the days of your life!
Give thanks with me this week for the unspeakably wonderful gift of His Spirit on Pentecost!