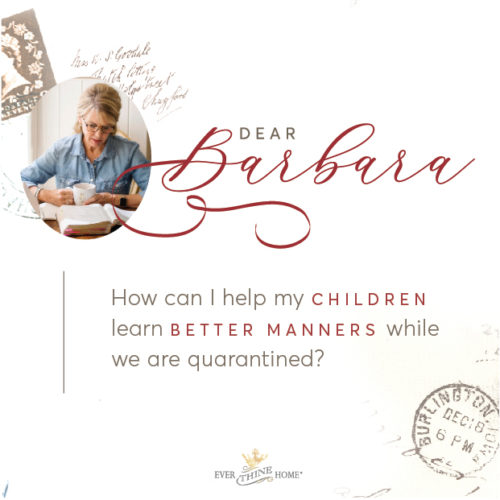 Dear Barbara: I remember reading about an etiquette dinner. We are planning one for our kids who are ages 10,8,4, and 2. Where do you suggest a list of manners to learn?
I love this question because this mom recognizes an important part of child development; teaching kindness and respect for others using the practice of manners at home. My reply below begins with what we are learning as a nation right now, then moves to where manners originate and why they matter. I also suggest a couple books at the end.
A friend said on a group Zoom call before Easter, "Athletes and movie stars are not the heroes now, but grocery store employees and medical workers." Another said her friend in New York City told of the tearful, clapping residents who cheer the scrub-clad men and women walking home from hospitals at the 7 p.m. shift change. 
Our affections have shifted to what matters most.
All of those who serve us during these days deserve our kindness, respect and gratitude. They are the new heroes of our nation and model daily the words of Jesus in Matthew 25:40: "Truly I say to you, as you did it to one of the least of these my brothers, you did it to Me, said the King."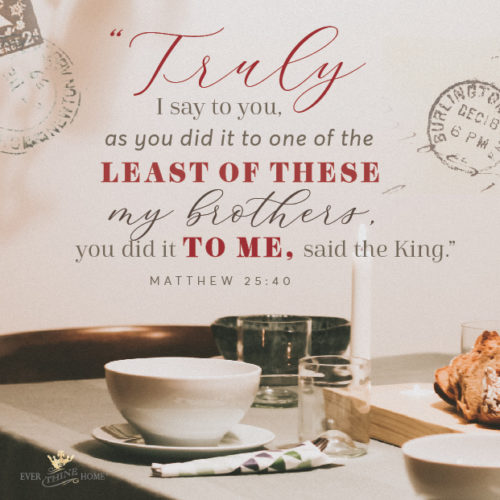 My life for yours. 
The idea to deny self for others is not our own. We all just celebrated in unique ways this Easter the ultimate display of My life for yours. God initiated this relationship and taught us, "We love because He first loved us," (1 John 4:8). Kindness is a descriptor of love.
Those who have not experienced the radical love of God think nothing of the cross. It is a joke, a fairy tale, an absurdity. It has no meaning, no preciousness. But to we who have experienced redemption, the cross changes everything. The model of Jesus' life trickles down even to our manners … and I might even say especially our manners … because how we treat others is a first introduction to what and who we value.
My life for yours is the foundation of manners.

In some ways I hope we never return to the old normal pre-Covid-19. 
I will welcome the freedom to come and go, to hug friends and family, to choose from fully stocked shelves. 

I will welcome letting go of fears: germs, death and unemployment. 

But I hope the old normal, the excessive adulation of celebrities and athletes is greatly tempered with a new eagerness to notice and serve the needs of others, to give the gift of kindness by saying thank you far more often than before.

I hope our old lives, driven by schedules and agendas, make room for more of the togetherness we've now become accustomed to.  
Most schools are closed for the year, so might this be an opportunity from God to refocus on treating one another, beginning in our families, with greater respect? It hasn't been easy. On my Zoom call with this same group of friends earlier this month we candidly shared the stresses of living with our husbands and kids at home day after day. But maybe it's an opportunity. And an excellent way to do that is teaching them about manners. 
Writer Peggy Noonan, in the long-ago days of 2019, bemoaned the loss of manners in our culture. She described city streets, parks, shopping malls in our old normal jammed with people heads down focused on their little screens; elevators filled with those who insist on a conversation with some unseen person; or checkout lines of humans who never speak to anyone because they are so glued to their devices. 
"You have all become very rude," Noonan wrote. "Not from ignorance, as Americans were in the past, but from indifference amid affluence. … You must think you are more important than the other citizens of the sidewalk. Who told you this? Who lied to you this way? A great nation cannot continue this way." She is right. Our detachment from real relationships is rude and ultimately dangerous to our soul health.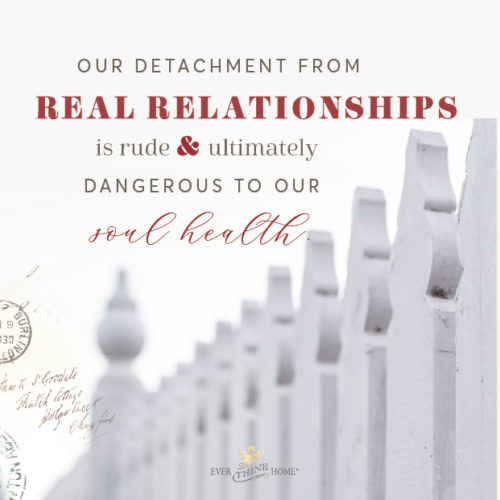 In a generation without devices I taught my children manners from the time they were little, and I've watched my children, now parents, do the same with theirs even while patrolling screens. My six learned to say, "Please" and "Thank you," with daily regularity. We instilled a respect for other adults such as their teachers and other parents, instructing our kids to use Mr., Mrs., or Miss/Miz. We had an adored family friend, a hero of the faith in our church, who we and our children lovingly and respectfully called Miz Kitty. 
In our home there was an elevated respect for grandparents, pastors, and leaders of our state and country. And though neither Dennis nor I grew up in the South, I learned to admire the yes ma'ams and no sirs I heard from other friends' children. It felt right for my children to learn these terms of respect. We didn't insist on it legalistically, but in the right situation it was a good skill in their repertoire. 
And yes we did special dinners with real dishes, cloth napkins with candles flickering on the table. Everyone came to the table dressed nicely, no jeans. Our kids had to sit straight and ask kindly for a sibling to, please pass the potatoes, instead of grabbing. My dear friend Susan Yates used to call them White House Dinners in their home because she told her kids, you never know where God will take you one day. You might be invited to the White House for dinner and you need to know how to behave.
Our casual culture has swung away from manners and respect and it has also impacted our view of God. He is worthy of all our allegiance and honor. Yes, He is our Friend, but we must learn to balance that intimacy of relationship with His position as King, Creator, Judge, "for our God is a consuming fire," (Hebrews 12:29). The same is true in families. Moms and dads need to be fun but they also need to be respected as God's authorities at home.
Manners is the language of respect. 
If you haven't yet in this quarantine of 2020, watch some classic films that show a world in which screens didn't exist. Our kids always rolled their eyes when we found lessons in movies, but that didn't stop us from creating teachable moments from movie nights. Lead your family in a conversation about manners and how being treated with respect makes you feel.
Jane Austen and Louisa May Alcott have seen a resurgence of popularity in the last 30 years. Many believe the ordinary kindness and deference shown in all the relationships is feeding a void in the soul of our nation, even our world. The television series, "Downton Abbey" revealed the same longing of our hearts as it grew a huge fan base year after year.
Another word for what was portrayed on screen was manners. Even though none of us wish to be as contrived as the aristocrats, the town folk or the servants, we women do wish for the beauty of being treated with the respect of a queen or a princess. The fruit of the Spirit is lovely when demonstrated. When a man demonstrates self-control, genuine humility, it is most attractive to women.
We have the opportunity in this difficult pandemic to prepare ourselves and our children for the future which will certainly not be as it once was. 
Will Christian families emerge from this seclusion with greater love for one another at home and for our neighbors? 
Will we take the lead in demonstrating the love of Jesus by making eye contact, speaking to our fellow inhabitants of this place God has planted us to live? 
Can we find ways to recognize those around us in our neighborhoods and demonstrate kindness and respect by thanking them for their work?
Of course, manners begin in the heart. But hearts are shaped and directed by parents. 
God is giving parents an opportunity that we all hope won't last much longer. In our longing to get out and do the things we once did, don't miss these days to invest in your children. 
For more practical ideas, check out Susan Yate's book And Then I Had Kids. Also, June Hines Moore has several books on manners, including her classic, You Can Raise A Well-Mannered Child.