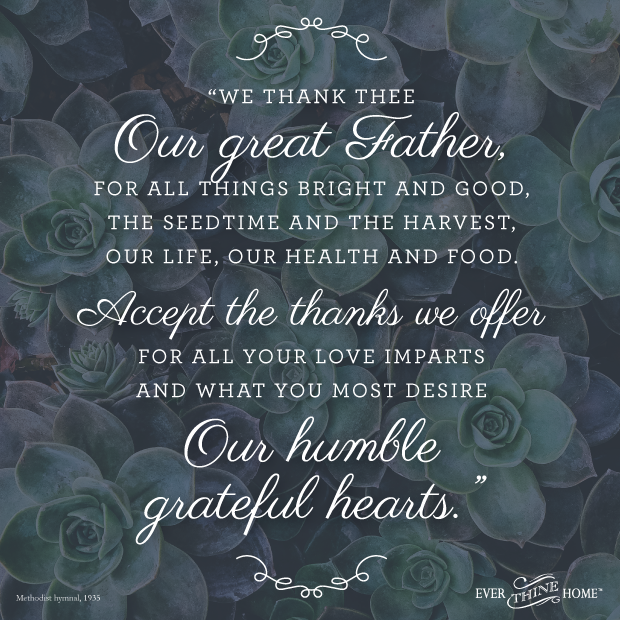 A long forgotten German saint named Matthias penned these words in the 1700s, which were then translated and set to music in the 1800s.  Music is a wonderful vehicle for carrying truth because a tune so easily sticks in our minds.  I imagine the words of this song reminded many thousands of the importance of thanksgiving all year long.
The essence of gratitude begins with acknowledging that "every gift is from above, coming down from the Father of lights" (James 1:17), including, "life and breath and everything" (Acts 17:25). There is nothing we enjoy in life that doesn't have its ultimate source in Him. Therefore, thanking God is tightly connected with trusting God's sovereignty in our lives and over everything.
Joni Eareckson Tada is one of the most positive, thankful people I know.  Though she remains confined to a wheelchair, completely dependent on a team of people for life every day, she is also exuberantly alive. What a contrast that able-bodied people find confusing and incomprehensible. Joni's life radically illustrates the truth that thankfulness is a choice with great benefits.
We all suffer, we all experience pain, but God tells us to "give thanks in all things" (1 Thessalonians 5:18). If Joni can give thanks in and for a wheelchair-bound life, I can give thanks in my pain and limitations, too.
But self-love steals our gratitude; it is the root of all ungratefulness. I love myself more than God when I want pity and attention from others, when I want to be the focus instead of God. It's true of me; it's true of you, too.
I want to be happy and enjoy the life God has given me. Don't you? Thanksgiving, then, is the key to enjoying every day. Continual, repetitive, deliberate, specific prayers of gratitude offered every moment of every day of every week of every year is the pathway to the life of joy God wants to give us.
May you and I become more like Joni, so that others may marvel at His work in us.