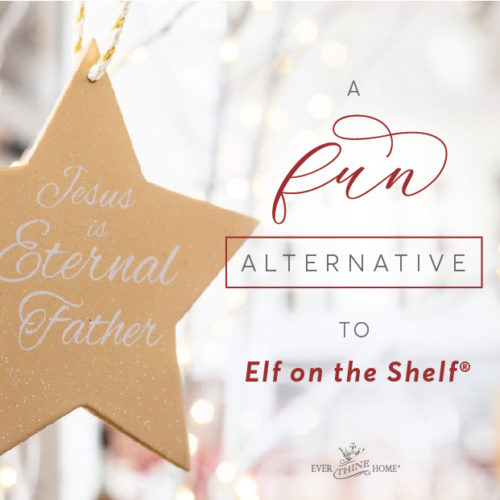 Contrary to popular sentiments, Christmas isn't for children. Nor should the focus be all about kids. 
Christmas is actually an annual opportunity to introduce your family to more and more understanding about the Babe in the manger, without whom this holiday would not exist.  
Games of hide and seek are lots of fun so here's a way to continue this popular holiday tradition while teaching your kids about Jesus. It's called Follow the Star. In this post are simple instructions, a story to read as you begin this game, questions to ask your kids if you want and have time, and ideas for hiding places. There is also an opportunity to enter a giveaway for a free set of His Eternal Names ornaments below. 
Instructions:
Order our 7-inch star ornaments, each printed with a different name of Jesus.

His Eternal Names.

Explain the rules of the game; you decide how often, what rewards, etc.

Read the story below one night before beginning to help your children imagine the journey and discovery of the Wise Men who followed the star to baby Jesus. (I'm going to print the story, cut it up into short portions and paste into a small book, and send it to some of my children along with the stars to do this with their kids. I'll get photos of them doing it and share them later!)

Depending on your family size or wishes, hide one, two or all three stars.

When found, read Jesus' name and the verse where it is found in the Bible. Have your children repeat the name so they learn it. Talk about what the name means if you'd like or ask your child to share what he or she thinks. If you desire, read the corresponding story in the small book that comes with the star ornaments.

At the end of the specified number of days (a week, every Monday or all month) or on Christmas Eve let your children hang the stars on your tree or hang one over your manger scene to remember the star led the wise men to Jesus. Remind your children of all ages that wise men, and women, still seek Him today.
A Story About the Wise Men
Have you ever wondered why the wise men, also called magi, were searching the stars for signs of a coming king? 
Why stars? Why not maps?
Did they know who they were looking for? 
Did they have a name and address?
The Bible says these magi arrived in Jerusalem and were asking those in the city, "where is He who has been born King of the Jews? 
How did they know a king would be born to the Jews?
Deep in the pages of the Old Testament the answers to these questions are hidden in the story of a teenage boy. As a young teen his life was changed forever when an army captured his city and took him and many of his friends away from their parents and families. 
The Babylonian army had orders from their king to bring only the best and brightest, so all the children of the royal families and nobles were kidnapped because they'd been educated. As they raided the palaces they also collected gold, silver and many valuables from the temple of God. 
Then began the long march on foot from their homes in Israel all the way to Babylon, hundreds of miles away. There they lived for 70 long years in servitude to a powerful king.
You probably have heard the names of four of these boys; Daniel, Shadrach, Meshach and Abednego. 
We know from the stories Daniel wrote in his book that he and many of his friends stood strong for God even while serving the kings of Babylon, who did not know God. Remember the lion's den, the fiery furnace, the visions of statues and the handwriting on the wall? Daniel's life story would make an amazing superhero movie! But after 12 short chapters, his story ends.  
But was that really the end?
Here is how the story might have continued.
As the wise men, with whom Daniel worked in the king's palace, watched him interpret the king's dreams, predict the future, and remain unscratched by a den full of lions, I imagine some of those men whispered, "Hey Daniel, can we talk about this God of yours, privately after hours?" Or maybe other wise men talked together about this God after watching Shadrach, Meshach, or Abednego survive the fiery furnace without even smelling like smoke.
Wouldn't you have wanted to know about the Israelite's God after watching all those miracles?
Maybe Daniel, his friends, and other unnamed Hebrew residents of Babylon shared their faith with their captors, their employers, and their neighbors. They were not afraid to stand up for God before the king so they probably answered the questions of others in the king's castle and his court. 
For centuries, the great hope of the Jewish people was the coming Messiah who would deliver them from bondage. This faith kept thousands of Jewish exiles hopeful even while enduring the 70 long years of captivity in Babylon.
God had given hints of His precious gift, the coming king, throughout the Old Testament writings. And many of His people knew of these hints. One clue from God was a metaphor used to describe the coming Messiah; a star. "A star shall come out of Jacob, and a scepter shall rise out of Israel" (Numbers 24:17).
And Daniel, near the end of his life at 85, wrote these words, "Those who are wise shall shine like the brightness of the sky above, and those who turn many to righteousness, like the stars forever and ever," (Daniel 12:3).
Centuries after Daniel lived, a team of wise, learned men who had studied astronomy and natural science for years and who lived in the East where Babylon was, discovered a star in the sky unlike any they had ever seen.
Might those wise men have been descendants of the wise men in Babylon who Daniel undoubtedly influenced with his unwavering faith? Do you think they had a copy of the Hebrew Scriptures? Might they have read those Scriptures searching for clues about the coming Messiah they'd heard about in the stories of Daniel's visions?
In their quest to understand the meaning of this new star and the truth they hoped it would reveal, these wise men made preparations for a long journey west. For many months they traveled, following this moving star. Have you ever seen a star that moved?
Arriving in Jerusalem, these wise men asked, "Where is he who has been born king of the Jews? For we saw his star when it rose and have come to worship him" (Matthew 2:2).
Miraculously, "the star, which they had seen in the east, went on before them, until it came and stood over where the Child was" (Matthew 2:9 KJV). The reward for the wise men who followed the star was great joy followed by worship. Would you have felt the same way too?
Will you be like the wise men and follow His star this year at Christmas? 
Questions to ask your children. 
I bet your kids will be interested in talking if you do this at bedtime! Mine always loved talking at bedtime. It was a delay tactic but use it to your advantage!
Teach your children to "follow the star" just as the wise men did. And talk, as often as you can during December, about the journey of the wise men, asking questions like:
What was hard about the journey?

Where did they sleep at night?

How long do you think it took?

Do you think only three men traveled?

How long were they gone?
Ideas for hiding the stars.
There are so many options around your home for great hiding places for the stars. A few of my favorites include: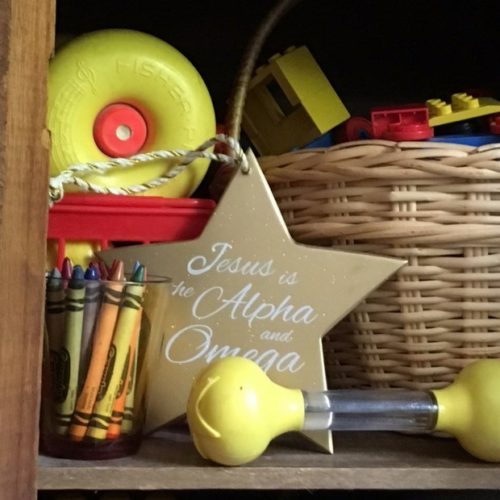 Hide a star on your kids' toy shelf or bin.
Add a star to a bookshelf.
Hide a star somewhere on a kitchen counter or on the kitchen table.
You could hide one in the silverware drawer.
Hide one in the guest room or even under your child's pillow.
The possibilities are endless! 
Now, we would love to hear from you! Please comment below and share with us one of your favorite family Christmas traditions and be entered into a drawing to receive a FREE set of the ornaments His Eternal Names! 
The Elf on the Shelf ® is a registered trademark of CCA & B, LLC. Copyright 2019