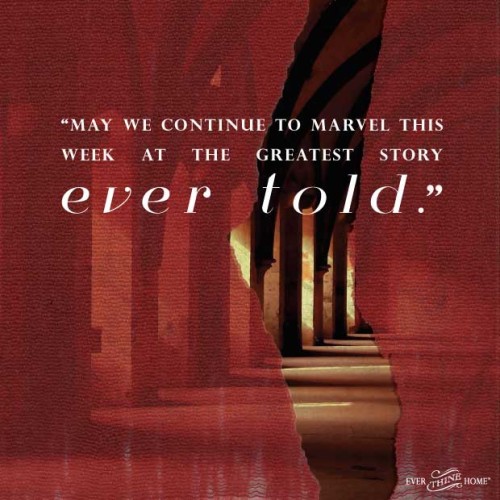 Back at the temple the "apparent" resurrection, or disappearance, of Jesus created a crisis of truly epic proportions for the Pharisees, elders and chief priests. They had spent much of the previous three years trying to discredit and trap this Man so they could get rid of Him. Once He was on the cross that Good Friday they returned to the task at hand; performing their Passover duties in the temple. To their shock, though they did not know it was Him, their toil of killing Passover lambs was dramatically interrupted as invisible hands ripped the massive curtain in two which separated the Holy of Holies from the rest of the temple. It happened at precisely 3 in the afternoon when Jesus breathed His last. The thunderous shearing sound echoed from every wall.
But I wonder. Was the curtain hanging on each side by a few unbroken rings or was the entire tapestry lying in two great crimson puddles on the floor? Did the tradition soaked priests frantically attempt to cover the opening as if God were suddenly naked before them? Did anyone make the association with the naked Jesus, His back shredded like fabric, hanging limply from two rods on either side of the cross? Did these learned illustrious men who lived for perfectionistic control stare into the never before seen room with mouths agape? What were they thinking, feeling, fearing?
The massive disruptions for the duty bound priests were not over with Jesus' death. Any relief they felt after collapsing in bed on the Sabbath's eve evaporated when the rumors began flying at dawn on Sunday that Jesus had escaped their calculated plans to make Him disappear. Matthew tells us, "they gave a large sum of money to the soldiers, and said, You are to say, 'His disciples came by night and stole Him away while we were asleep.'" I think I understand some of what the religious leaders felt. Jesus has disrupted my world more times than I would have liked. Managing the crisis is a natural response when one thinks he is in control. But we are not just as they were not.
The central message of the cross is all about the control of the One whose Love is supreme, and is supported by a cast of thousands of details each giving ascent to the infinitely perfect plan of the Father, executed flawlessly by the Son. God's Spirit left the temple during the days of Ezekiel and by Jesus' sacrifice the way was permanently opened, symbolized by the torn curtain, for anyone to come before God's throne.
May you continue to marvel this week at the Greatest Story ever told.
And may you give thanks repeatedly every day for the wonder of salvation!