Celebrate 50 years of marriage with Barbara and Dennis!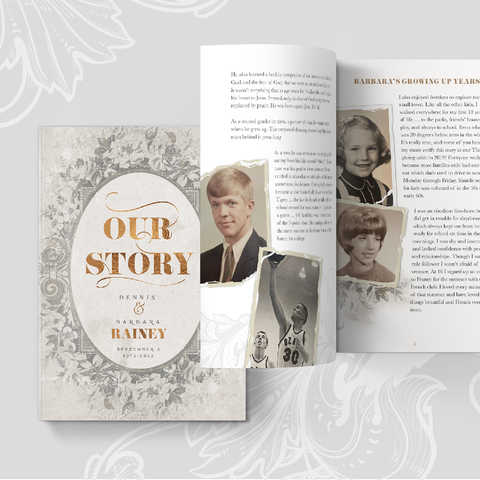 As Barbara and Dennis began to think about how they wanted to mark 50 years of marriage one of the things they both agreed on was to share their story in some way with their grandchildren and children and to pass on some of the lessons God has imparted to them over those five decades together. From that came Our Story, a book that tells how Barbara and Dennis came to be the Raineys, their testimonies, meeting in college, and courtship - a marriage arranged by God Himself.
But like the last five decades Barbara and Dennis wanted to also extend the offer to anyone else needing encouragement or guidance in their marriage, but perhaps, even more, to help live a legacy for the next generation of couples to have a marriage rooted in faith. This beautiful book includes pictures of the Raineys through the years and some solid advice on walking in faith as a couple.
There are a VERY limited quantities of these beautiful full color books remaining. Get your copy of Our Story today for $100.  Your purchase will cover the cost of the book, shipping and will also continue to encourage women in their walks for years to come through the ministry of Ever Thine Home.  Our Story also includes 50 lessons from 50 years of marriage.
NOTE: Book value is $25 with a $75 deductible donation
**VERY LIMITED QUANTITIES!!**
Order yours below today while supplies last!
SOLD OUT!!!