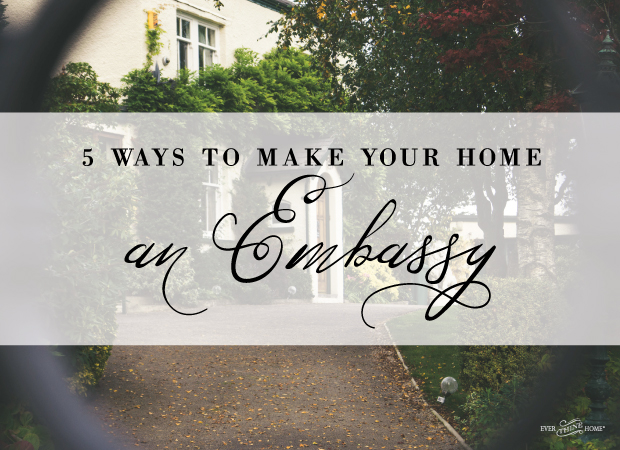 Do you realize that your home may be one of your best opportunities to reach and influence people for Christ?  So many people today are longing for a place where they are loved and encouraged.  A place where they feel comfortable and not judged.  Your home can be that place.
Yet too often we wait to invite others into our home—until the rooms are clean, a meal is ready, the children are well-behaved, or we have free time. We must remember that our homes do not belong to us. They are given to us by God to steward well for His purposes. Instead of waiting for the right moment to entertain, we need to expect God to use our homes to put Him on display in the dailyness of every day to anyone who enters.
Here are 5 ways to make your home an Embassy for Christ:
1. Love your neighbor.
2. Practice hospitality.
3. Keep an open-door policy for anyone who needs a listening ear.
4. Decorate with meaningful truth.
5. Host small-group gatherings.
Download these 5 ways for a frequent reminder here.
Your home is an embassy of the King. There are countless ways to love those around you in the setting of your home, but there's not a perfect formula. Even the smallest strides toward declaring your home a representation and refuge that represents our King will honor the One who has provided your family with a residence able to serve Him through serving others.
I'm inspired by a woman I saw in a video who sees her home as an embassy.   She says she is always prepared for anyone who might stop by. She sees her home as a hideaway any time of day or night for anyone in need.  Check out her story here https://deidox.org/film/woman-lives-at-embassy-of-kingdom-of-heaven/.