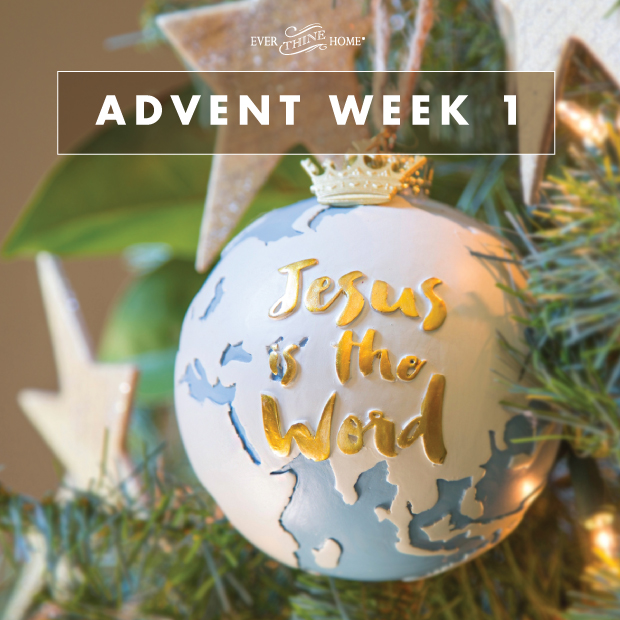 I hope you're enjoying these posts from my friend Dave Boehi, who wrote these Advent lessons to encourage us during Christmas. I love how he suggests using our new His Advent Names Adorenaments in each one. -Barbara 
Certainly you already have your December calendar dotted with festivities: caroling, class parties, office parties, cookie baking, gift buying, gift giving, card mailing, tree trimming, and more. While the traditions and memories are rich, they are a meaningless frenzy if not built on the foundations of true worship to the One who came that long-ago first Christmas morning.
I'd like to extend an invitation for your calendar. Pencil in 10 minutes of family worship time for each Sunday of Advent, beginning this Sunday, November 27.  This time will help you be more intentional about teaching your family to honor and give thanks for Jesus' birth. We'll provide a short devotional, appropriate for any-aged children and families of all seasons, that explores the four Advent names of Jesus. Because the more we know of Him, the more we will adore Him.
So make space on your calendars, subscribe to the blog to get the devotions in your inbox, and gather your family around the tree or the table. Simply make time to focus on Jesus, the real reason to celebrate. The devotions correspond to our new 2016 Adorenaments set, so if you have those check out more ways to make this together time meaningful.
Advent Week 1: Jesus is the Word
In our blind, hurried rush through the holidays each year, many of us are much like small children who tear through a pile of wrapped gifts on Christmas morning.  Once the frenzy is over, they sit on the floor surrounded by paper and boxes and toys … and cry because it's all over.  Is that all we get?
Christmas is a time of joy and frustration.  A frenzy of preparations and merry-making, followed by weariness and even emptiness.  Is that all we get?
Thankfully, no. Christmas is about so much more!
There's nothing more meaningful at Christmas than learning more about Jesus Christ, the Savior whose birth we celebrate. For He is so much more than a baby in swaddling clothes, lying in a manger.
Jesus is a Man of many names—some scholars say as many as 300—which tells us right away that He is not like us. Getting to know the names of Jesus introduces us to who He is.
It's the starting place for discovering the greatest treasure, a relationship with the eternal God. In learning the names of Christ, our understanding of Him grows. We begin to know Him as He is.
Jesus is the Word. "In the beginning was the Word, and the Word was with God, and the Word was God. He was in the beginning with God" (John 1:1-5). But not just a spoken word or a written message.
Jesus, the Word, became flesh. To introduce God to all of humanity in a face to face encounter.
And that's what we celebrate at Christmas. That "The Word became flesh and dwelt among us, and we have seen his glory, glory as of the only Son from the Father, full of grace and truth" (John 1:14).
Praise God that He spoke to us by sending His Son, the Word, to live on earth. This is what we sing about in one of the verses of "O Come All Ye Faithful":
Yea, Lord, we greet thee, born this happy morning;
Jesus, to thee be glory given!
Word of the Father, now in flesh appearing!
O come, let us adore Him …
Christ the Lord.
Close by singing or listening to this classic Christmas hymn with your family. Praise God for coming to meet us in a ruddy stable centuries ago.