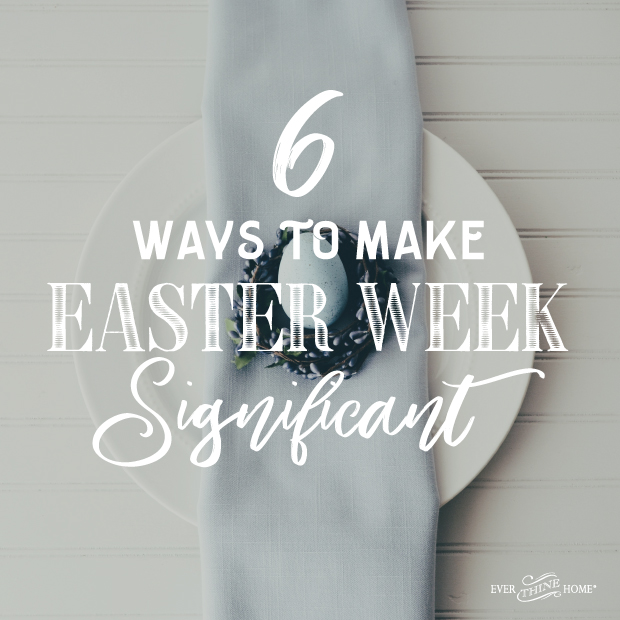 It's here! Easter week! How have you done building anticipation and celebrating over the past few weeks? Whether you've joined us as #EasterPeople or not, by this week there's no denying that Easter is upon us. Most churches will celebrate Palm Sunday this weekend and everyone agrees that you better grab your Easter Sunday attire if you haven't yet!
Here are 6 ways to make this week meaningful and memorable in your home.
Have your kids reenact Palm Sunday. Help them cut out fabric or construction paper for costumes and palm branches. Read the story of Jesus' triumphal entry together and help them determine parts. Make a Hosanna banner to hang across the mantle of your living room stage for the performance.
Download our FREE Holy Week devotions to make time every day this week to read scripture together and build your family's anticipation of Resurrection Sunday. They are a meaningful way to spend 5-10 minutes around the dinner table or before bedtime with your family. Light candles as instructed each day during your reading to add to the significance. (More instructions and suggestions in the free download!)
Watch The Jesus Film together to give our image-driven minds something to ponder and remember.
Attend a Good Friday service. If your church doesn't have one, go to another local church's night-time service. It will be an impactful time of reflection and truth of what Jesus did for us the day He died on the cross.
Make Saturday a day of mourning. Keep your blinds pulled or lights off all day to remind everyone that the Light of the World was extinguished on Good Friday. Cover your Holy Week candles with a black cloth for the same message. Help your family feel a sense of the loss and devastation the disciples felt the day after their Savior had died.
Celebrate BIG on Easter Sunday! Wear all white. Plan a beautiful tablescape using our seven candle template or transfers, setting an all white table with our He is Risen Easter placemats Host and our Resurrection Napkins, and lots of roses or tulips or other fresh flowers to declare He is Risen to everyone present! End your Easter gathering with a party with lots of balloons, sparklers, music, or any kind of festivities you can imagine.
Easter is our greatest celebration of all as believers in Jesus! Without the cross we would have no hope and Christmas would be meaningless. Because this is all true let's celebrate and worship with exuberance so all the world knows Jesus is Alive forevermore!